Røde Microphones has updated its Soundbooth online application, extending the functionality so that users can hear and compare the complete range of Røde broadcast and video microphones.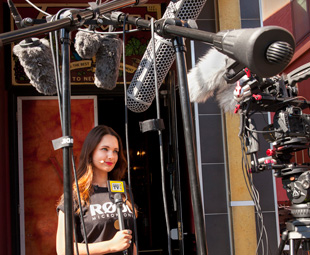 Launched almost a year ago, the original Soundbooth was the first online application to enable audio comparison of microphones, as they would perform in everyday use. Featuring tracks recorded by renowned producer and engineer John Merchant and focusing on the recording of vocals and musical instruments in a studio environment, the application has been used more than 100,000 times and has played more than half a million tracks.
This new edition of Soundbooth offers 23 Røde mic models, including the NTG8, NTG3, NTG2, NTG1, VideoMic, Stereo VideoMic, VideoMic Pro, Stereo VideoMic Pro, NT4, NT5, Broadcaster, Procaster, Podcaster, Lavalier, PinMic, HS1, K2, NT1-A, M1 and M3. Additionally, the application includes three forthcoming microphones for broadcast and field recording that Røde will announce during the remainder of 2012, and make available for use in the Røde Soundbooth.
The application is split into five different scenarios that broadcast sound engineers typically encounter – indoor and outdoor dialogue, voiceover, acoustic music performance and live sound reinforcement. Each audio scenario offers a range of microphones that users can switch between in real-time, to hear exactly how each one differs acoustically.
'We are incredibly proud of the Soundbooth platform and to extend its application to our broadcast and video range is something we are very excited about.' says Røde Global Sales & Marketing Director, Damien Wilson. 'We are constantly working on ways to educate our customers on the best mic for their application and with this new broadcast version of Soundbooth that just got a whole lot easier'.
A native iPad version of Soundbooth broadcast is currently in development and slated for release in late 2012.