Her first ever concert in Poland, Jennifer Lopez' concert at the PGE Arena Stadium in Gdańsk drew an audience of almost 25,000 people. Jenny From the Block performed songs from her seven albums, with every detail of the show carefully planned to meet the high standards set by the artist and her technical staff.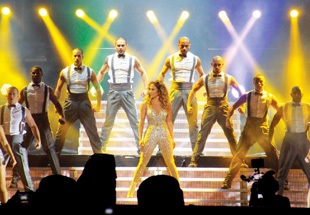 'We faced a great acoustic challenge because of the clamshell shaped stadium,' says Yurek Taborowski, owner of Gigantsound Letus, the Polish rental company that provided the equipment. 'We decided to use 60 Powersoft K10 amps to drive 110 VT4888 cabites (low, mid, high) and 20 K20 amps for the 80 SB1000 subs – about a million watts of Powersoft green audio power. These were fed from two 500kW generators (one spare), and dramatically affected the sound quality and intelligibility in the huge Gdańsk arena.'
The set-up impressed by Rick Camp, FOH engineer for the JLO tour, and a live sound veteran whose credits include work with Madonna, Beyoncé, Anita Baker, Chris Brown, Earth, Wind & Fire, Kelly Clarkson, Mary J Blige and Natalie Cole.
'Powersoft amps loaded with Mario Di Cola's presets made an OK-sounding VerTec PA sound amazing,' he says. 'From the fast and punchy response of the K20 amps on the subs to the K10's warm and very midrange and high end, these amps make VerTec sound like a million dollars.'
'It was the world's best sounding VerTec PA system I've ever mixed.'
The Italian Powersoft team believes that this reflects the essence of its current communication campaign: 'This is the perfect example of what we mean with our <Refresh Your System> advertising message,' says Powersoft Pro Audio Manager, Luca Giorgi. 'The project we started for developing high-quality presets to be loaded in our K Series amps, in cooperation with Audio Lab Systems' Mario Di Cola had exactly the purpose of demonstrating that with our platform we could achieve unexpected sonic performance. We had good reason to believe that we could achieve these results relying on the K Series, high fidelity sound reproduction and the unique features of the K-DSP platform.
'I would like to thank Rick Camp for having given us the opportunity to prove our Refresh Your System concept, ' he adds. 'It has been a real pleasure to surprise him in such a positive way.'
More: www.powersoft-audio.com