GC Pro has opened a custom recording/listening demo facility at the Hollywood Guitar Center on Sunset Boulevard.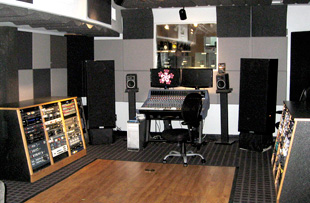 The facility is open to the public, GC Pro affiliate partners and manufacturers alike, and is equipped with some of the most sought-after gear from GC Pro's extensive inventory, including a Neve Genesys console and custom Ocean Way monitors tuned by creator Allen Sides himself – both products distributed in the US exclusively by GC Pro.
Additionally, the facility features studio monitors from Genelec, Adam Audio and Focal, along with custom-designed photo-embedded acoustic treatment from Auralex (who also worked with GC Pro to tune the room), and racks of outboard gear both vintage and new.
The outside sales division of Guitar Center, GC Pro's home offices are also located here, where the gear covers the full range of needs of today's producer, engineer, artist and musician.
'This new facility opens up a number of opportunities for GC Pro, for both demonstrating music and recording it,' says GC Pro Vice President, Rick Plushner. 'The Hollywood location also houses our custom-built live sound stage, which is used to tape our GC Sessions video series, and with the addition of the recording room, a fully-integrated facility is emerging – bridging the worlds of live sound, recording and A/V production.
'The patchbays are customised, designed by the Malvicino Design Group – one of our GC Pro Affiliates –and we can now fully track GC Sessions performances and other events, with the full arsenal of modern studio wizardry at our fingertips, including editing, effects and overdubs. We are raising the bar for what we can accomplish production-wise, and we will be passing that content onto the audio community at large.'
Other programmes based on the room are in the works, to further expand GC Pro's reach and offer enrichment sessions/classes to the audio community. Manufacturer/vendors will be invited to participate in demonstrations, providing expert perspective – presentations that will be taped and posted on GC Pro's website.
'It's great to have a room where you can actually hear what gear sounds like,' says engineer, producer, mixer and founder of Ocean Way Recording, Allen Sides. 'We were excited to be involved with the acoustics and design of this great space, and to provide a set of our new Ocean Way AS1 monitors. Critical listening is the only way to judge what gear sounds like, and in most retail environments you haven't a clue until you get it home.'
'Installation of the new audio demo room at GC Pro was handled with the same approach we take with a regular studio installation,' adds Horacio Malvicino of the Malvicino Design Group. 'The console is wired to four Audio Accessories TT 96 point patchbays, which allow access to all of the console features. We also added a 16-tieline panel in the control room to allow for quick interface of external gear, as well as a 16-input mic panel with Ethercon ports to interface a multi foldback system.'
More: www.gcpro.com