Reunited for their first concert tour of the US in almost 30 years, the Jacksons have embarked on the 2012 Unity Tour to celebrate their own musical heritage and to honour the spirit of Michael Jackson. The tour brings Jackie, Tito, Jermaine and Marlon Jackson together to perform 'I Want You Back', 'I'll Be There', 'Wanna Be Startin' Somethin' and many others – with plans for a live concert album and DVD to follow.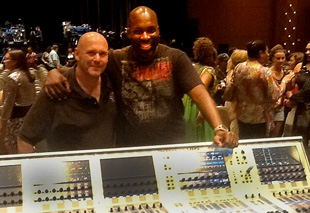 At front of house is a Soundcraft Vi6 digital live mixing console, in the capable hands of tour sound veteran, Shannon Austin.
'At first, another manufacturer's console I won't name was being forced on me, and I didn't like it,' Austin says . 'For a tour of this magnitude, I didn't want to settle or compromise. After all, you're talking about a group and individuals who have sold hundreds of millions of records whose songs are part of the very fabric of American pop music. I had also tried other brands of consoles and none of them impressed me as much as the Soundcraft Vi6.
'I'd already used the Vi6 with two other clients – Jay Sean and Martha Munizzi – and the thing that jumped out at me the most was the sound quality,' he continues. 'In both cases, the desk performed beyond my expectations. I called Tom Der at Soundcraft, told him I wanted a Vi6 for this tour and he was able to make it happen.'
The desk is being used in a standard configuration with 64 inputs and 32 outputs on the stage rack. 'The local rack is also pretty straightforward, and adds 16 more line inputs in addition to AES and Madi connections,' Austin says.
Bu it is the configurability of the desk that really appeals to him: 'You can customise it to be the way you want it with the Vistonics II touchscreen interface and the user options on the input section,' he explains. 'It's like designing your own configuration based on your workflow. Compared to other digital desks, the Vistonics screens make setting up the console a breeze, as well as making any needed tweaks during a performance.
'Also – and this is something that more and more people are paying attention to – the Vi6 has a really good internal word clock. The quality of a word clock is absolutely essential to a piece of digital equipment's sound quality, and the depth and width of the sonic image you can achieve.
'Another big part of the reason the Vi6 sounds so good is that it has Studer guts inside,' he adds. 'I've worked with Studer equipment as well as Soundcraft in the past and the fact that the two companies share technologies is a big plus in my book. If you were to ask me what three things set the Soundcraft Vi6 apart from other consoles, I would answer: Sound quality! Sound quality! Sound quality!'
More: www.soundcraft.com