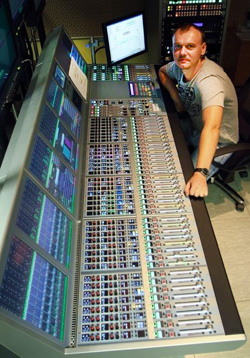 Calrec has made its first sale in Russia with the placement of two Artemis Beam digital broadcast mixing consoles in the Television Technical Centre Ostankino for the NTV-Plus subscriber satellite service.
Providing sports, news, movies, documentaries and children's TV, as well as an HD service, NTV-Plus has installed the 48-fader desks in the Moscow Television Technical Centre. The consoles are networked together using Calrec's Hydra2, allowing either console to access any I/O on the network, which provides room for future expansion with both consoles and I/O.
The system enables NTV-Plus to broadcast in 5.1 and als o to move content around in order to maximise productivity and undertake larger, more complex productions. As one of the few console manufacturers to offer tailored solutions to broadcasting companies, Calrec designed a panel that sits in the control surface and houses a Colin Broad SR4 serial remote/synchroniser. This set-up enables operators to control multiple playback/record machines from the Artemis desk.
'We aspired to find a system to match the requirements of our broadcasting and production facilities,' says NTV-Plus CTO, Oleg Kolesnikov. 'We believe this choice offers the best answer for live sports productions and studio shows. NTV-Plus is widely known as a technologically pioneering company in the Russian broadcast market, and this digital audio transition with Calrec allows us to maintain that position.'
The project was coordinated through OKNO-TV, one of Calrec's preferred Russian systems integrators.
'We feel this is a very positive first step in forging strong bonds between our companies in what will be a long and mutually beneficial relationship,' says Mike Reddick, Calrec Manager of European sales. 'Calrec offers a solution for today's broadcaster that allows room for change and expansion, which is especially poignant for a forward-thinking television company such as NTV-Plus.'