An important stop on the European jazz circuit, the 2012 Jazz à Vannes line-up featured the likes of Marcus Miller, Malia, the Kyle Eastwood Band and the Jacky Terrason Trio. Co-starring at the event, rental company and jazz specialist Studio Sextan took care of the audio requirements for the French festival.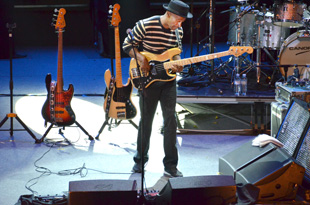 'I've been doing this festival for 23 years now,' says Studio Sextan's Vincent Mahey. 'On the one hand it's very familiar; on the other, it's exciting to witness and to be a part of all the changes and developments that have taken place over the years, not least amongst the sound systems we have supplied, to make the festival what it is today.'
'Today' found an APG Uniline system serving as the PA for the main stage in the Jardins de Limur, complete with a DX Series stage monitor system and two Innovason Sy48 consoles at FOH and monitors. The system comprised LR hangs of seven UL210, three UL115s and a UL210D downfill each, supplemented by four TB218 subs under the front of the stage and two DX15 front fills. Mahey placed a further two TB218 subs below the seats about two-thirds up the rake for extra sub-bass reinforcement.
Mahey reports that this is the fifth year that Studio Sextan has supplied an APG system, the last three of which have been with Uniline. The past two years have also seen a DX Series stage monitor system.
'Every year we make a few minor adjustments to the configuration, but we've basically hit on the right formula now,' he says. 'As I've said time and time again, Uniline has proved to be an excellent system for us. I like the natural, transparent sound and the complete lack of distortion, even when driven hard. Frequency response and directivity control are both excellent and the modularity of the system makes it easy to design a configuration that will achieve smooth and even coverage throughout the listening area, whatever its shape and size.'
The Jardins de Limur stage at Jazz à Vannes features unusual depth and steep rake of its seating. 'The seating area isn't very wide, but it's long,' Mahey explains. 'The seats furthest from the stage are a good 60-70m away, and quite high up, so we opted for a fairly big configuration to make sure that we could comfortably achieve the coverage and sound quality we were looking for.'
In terms of stage monitor ing, Sextan supplied 12 APG DX12 wedges and six DX15s. 'The DXs are now a fundamental part of our inventory,' Mahey says. 'The artists we work with regularly are always pleased to see DXs on stage – and it has to be said that jazz musicians are amongst the most difficult to please when it comes to monitors - and those that haven't come across them before are quickly converted. Excellent sound quality, compact, versatile – what more could you want?'
More: www.apg.tm.fr