Marking the official introduction of the JBL VTX V25 Series to the Asia market, local distributor Mahajak SKM Electronics (MSE) and Harman Professional co-hosted Hear The Truth Live! at the Mahajak SKM premises in Singapore recently.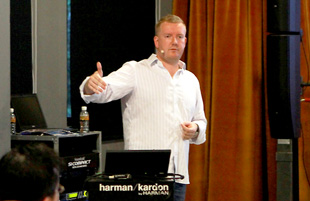 Attended by a large number of the Mahajak Elite Club members – including consultants, equipment specifiers, installers, rental house owners and sound engineers from Singapore, Thailand, Malaysia and the Philippines – this full-day event comprised two sessions. The first session was a closed-door hardware training session for key staff of appointed Harman Pro contractors and owners of JBL VerTec systems. The well-equipped training room at MSE HQ saw Harman Pro Applications Manager Stuart Dingwall address a selected audience, while the afternoon session was open to all members of the local audio community. This opened with a high SPL demonstration of the new VTX line array system in the building's open car park, where the power and delivery from a single V25 Line Array System and G28 Cardioid-Arrayable Subwoofer were put through their paces.
Back in the training room, Dingwall explained that JBL regards the improvements in the new line array to be 'both evolutionary and revolutionary'. In fact, the V25 uses new components throughout – from enclosure to high-frequency driver. This allows a shorter enclosure to be used (a nine-boxbox VTX 25 array is equivalent to an eight-box VT4889 array). The enclosure is also deeper amd has greater LF port area (4-inch voice coils and increased LF power and extension), and uses a refined RBI (Radiation Boundary Integrator) waveguide, giving improved acoustics and better off-axis response. New and suspension hardware promises shorter set-up times, with and fewer pinning steps involved. The VTX Series also has a new D2 Dual Diaphragm High Frequency Driver technology (patent pending).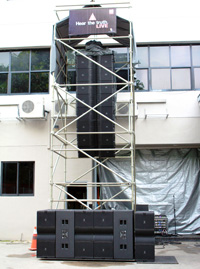 'Due to space constraints, we had to turn down not a few but many requests to attend the product launch,' says Dave Loh, General Manager of MSE. 'Although MSE is only the distributor for the Harman Professional brands of products in Singapore, this event proves that we are working as a group to support the pro audio markets in the region.'
The VTX V25 is a full-size three-way high-directivity line array element, featuring two 2kW 15-inch Differential Drive woofers mounted in die cast aluminum baffles, with four 8-inch Differential Drive midrange transducers and three of the D2 Dual-Diaphragm Dual-Voice-Coil Compression Drivers mounted on a third-generation waveguide and patented RBI – Radiation Boundary Integrator assembly. Rigging, Crown VRack DSP and amplification, and JBL HiQnet Performance Manager configuration and control software complete the system package.