The new flagship cruise liner Scandinavia's Viking Line, the M/S Viking Grace is readying to set sail in January 2013. According to cruise line company's A/V Manager Jouni Sironen, extreme care has been put into the audio systems in order 'to deliver crystal clear sound to every part of ship'.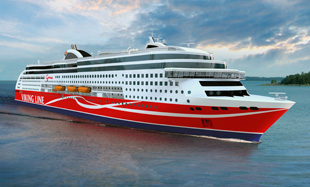 With seven of Viking Line's current fleet being kitted out with Lab.gruppen amplifiers, the M/S Viking Grace has followed suite. Lab.gruppen's Finnish distributor, Noretron Audio, finalised the deal with Viking Line Abp, which will see the delivery of a total of 27 Lab.gruppen amplifiers to the new cruise ship. The amplification will serve the ship's installation of 344 Turbosound loudspeakers –divided between a nightclub, several restaurants, tax free shop and conference rooms.
Specifically, the system will use four PLM10000Qs, 13 C20:8Xs, two C10:8Xs, aC10:4X, a C88:4 and six C48:4s. Three NLB60 Nomad Link will handle amplifier control and monitoring. Noretron is also supplying all other entertainment audio including digital and analogue consoles, above mentioned loudspeakers, wireless microphone and IEM systems.
'We like the Lab.gruppen amplifiers because they sound good, they are reliable, and they are also very lightweight, which is important for us,' Sironen says. 'We have used Lab.gruppen almost exclusively on our ships for the past 18 years. Recently, the C-Series amplifiers have made our lives a lot simpler with up to eight channels per unit [yielding] opportunities to run two channels to 4Ω and six with 70V lines. The result is that less rack space is needed. Sound quality, durability, lightness, low power consumption, good service and long guarantees – all of those factors made it an easy choice for us to specify Lab.gruppen on the new ship too.'
The ship is being built in Turku shipyard run by STX Finland. She will start operating between Finland and Sweden on the Turku–Mariehamn–Stockholm route. M/S Viking Grace will be the first large scale cruise ship in the world to use LNG (Liquefied Natural Gas) for its energy source, and the audio systems similarly call on manufacturers' best and latest technologies.
'This project is challenging, and at the same time rewarding,' says Jorma Tikka, Noretron Audio's Senior Sales Manager. 'We at Noretron are proud to be part of the project and look forward to a technologically most advanced cruise ship at the Baltic Sea. Cooperation with Viking Line has been smooth since the very beginning. The customer had a clear vision of the desired results, which in turn made the planning stages of the entertainment audio systems straightforward for us. Installation, testing and system tuning will take place by the end of 2012. With the professional engineers onboard, we are using the best expertise available in Finland. Thanks to the renowned brands Noretron represents, I am totally convinced that the entertainment audio of Viking Grace will be world-class.'
More: www.labgruppen.com