Ongoing and on track, the SAE Dubai has followed the recent acoustic upgrade of its production studio with a technical upgrade if its primary audio recording room, Studio 7. Now named the SSL Studio, yjis has been equipped with a Solid State Logic AWS 948 Hybrid Console/Controller.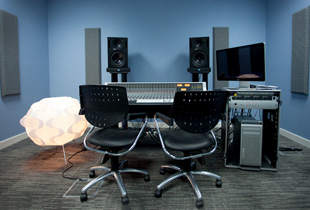 Offering hands-on learning of large-format console operation and routing for both analogue and DAW production, the new desk serves the SAE's degree and certificate programmes in media production, including audio engineering, 3D animation, multimedia, game design, digital filmmaking and music production.
'Our aim is to provide quality, high-end education and training for future aspiring audio engineers, so keeping up with the latest industry standards throughout the course curriculum is essential,' says Randula De Silva, head of the Audio Department. 'We chose the AWS 948 to provide a platform that covers all the bases regarding teaching modern music recording.
'The console's size was a perfect fit for the control room and the self-contained operation of the AWS meant we did not need a dedicated machine room for power supplies and the like. This fits our "green" design considerations practiced throughout the facility.We also liked that fact that engineers across the industry were familiar with the console.'
SAE Dubai's audio programme revomelves around seven studios, each having a different level of sophistication and primary application. The SSL Studio connects to the SSL Live Room, a mid-sized room that can comfortably house a quartet of musicians. The acoustics of the room are optinmised for picking up the dynamic response of instruments, especially drum kits and loud instruments.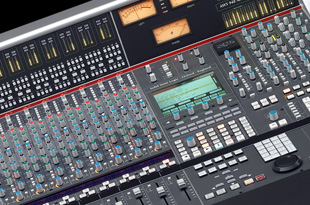 Designed for mid-scale commercial recording and production, the AWS uses a compact 24-fader frame to offer the company's SuperAnalogue audio path with 24 SuperAnalogue mic preamps, SSL dual-curve EQ on every channel, two assignable SSL Dynamics, Stereo Buss Compressor, TotalRecall and 5.1 monitoring. In addition, the desk features Ethernet connectivity for hardware control in a Digital Audio Workstation environment.
'The SuperAnalogue mic preamps on the AWS capture every nuance of each performance, giving the students the opportunity to really hear the differences between microphones and instruments,' De Silva says. 'The preamps also give us a very accurate natural sound that helps teach about EQ and dynamics. When a change is made, a student can hear the difference and that helps them train for professional work.'
SAE Dubai was founded in 2005 to extend the opportunities for training and education in all aspects of media production in the Middle East. With the addition of the AWS with control of the resident Pro Tools DAW system, students can work in both traditional analogue and computer-based workflows from the console surface.
'The SSL console has an extremely easy structure and signal flow,' says De Silva. 'The integrated digital section, which makes recalling desk set-up fast for analogue sessions, as well as when working on a remote layer for Pro Tools, make overall training easier while getting students acclimatised to sound engineering concepts. The entire point of the coursework is to enable students to really hear sound and understand how to accurately process and mix different tracks to produce professional results. The AWS 948 completely meets the needs of this programme.'
See also:
More:
www.solidstatelogic.com