Servicing live music, cultural festivals, sport, exhibitions, trade and fashion shows around the city of Medellín, Colombian production Grupo Hangar required a new digital mixing console capable of provide a bespoke solution for each occasion. It settled on a DiGiCo SD8 and quickly put it to use on the city's highest profile music festival.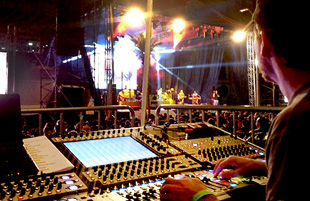 'We purchased the SD8 for a number of reasons,' says Grupo Hangar producer, Santiago Vélez. 'First of all, it has a wonderful sound – not only in terms of the features to shape the sound, but just bringing the faders up it sounds amazing. It's also a very versatile desk – each session can be configured to each event's needs, which allows engineers to work very comfortably.
'The FPGA technology makes it more stable and faster in its internal processing, which is very important when working with lots of channels and processing. The multiband compressors are also wonderful.'
Medellín's famous Feria de las Flores (Festival of the Flowers) is a week-long event featuring a pageant, parades and much live music.
'I have found many things about the SD8 that I like since I began working with it,' says Santiago. 'The way that the desk can be adapted to my needs is amazing – the ability to move every fader or group of faders to wherever I need them and the concept of snapshots within the same session are great. But, most of all, I like the fact that there is no interruption to the audio when changing from one scene, preset, etc to another and the ability to change parameters softly with the programmable time feature.'
Hardware is only part of the story, however. Grupo Hangar is thousands of miles from DiGiCo's UK headquarters, but Santiago is impressed with the technical support he has received: 'Because we are the only company in Medellín with the SD8, I was worried that any problem with the desk could be a nightmare,' he confesses. 'But DiGiCo have provided wonderful customer support and their staff have been very patient and helpful with any issues that I've had. I am very grateful for that.'
More: www.digico.org