Part of the world-class broadcast production system in ATM System's new HD2 OB truck, a 52-fader Studer Vista 9 console has been installed systems integrator, 4Vision – the first application of a Vista 9 in Poland.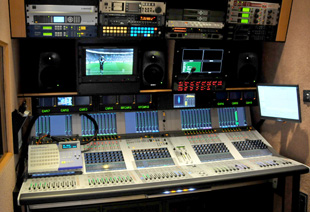 ATM System is one of the largest production companies in Poland, and has already pressed the HD2 OB truck into use on various events throughout Europe, including the Polish football championships and Woodstock Festival Poland 2012, as well as showing it off at IBC 2012 Show in Amsterdam.
At 16.7m meters long and 4m wide, the truck's two pull-out walls provide a operational area of more than 45-sq-m, where up to 25 people to work comfortably.
'The Vista 9 is a very stable system and is able to handle anything we require of it,' says Mariusz Nowak, Audio Engineer for ATM System.
Nowak's favourite feature of the Vista 9 is its History display: 'It's very useful if for some reason the audio drops out on one channel but you can't tell which one it was,' he says. 'The Histogram feature allows you to easily spot the channel where the audio dropped and you can react immediately, making the required adjustments. It's the same if there is an unexpected signal overload in a particular channel. The red indications in the History display can't be overseen and you can react right away.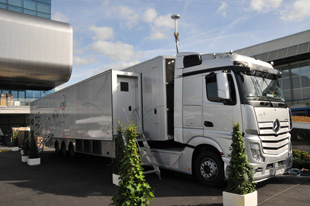 'It's extremely convenient to be able to assign the same colour to faders for similar channels,' he says of FaderGlow. 'I can quickly identify what each fader is assigned to. It just makes operation much more efficient.
'Vistonics is very useful,' he adds. 'With one touch I can adjust compression, EQ, effects, every function I need.'
'In our opinion, the Vista 9 is the best audio mixing console on the market4Vision President, Maria Pirga. 'It is reliable, high-performance ATM has a Vista 8 in another OB truck, so it can integrate both systems for very large events. This capability, combined with the familiarity of working with the Vista 8, made the Vista 9 the right choice.'
'System integration for the truck was completed in four months,' she says. 'The first transmission was done one week after the truck was completed, for a football match.'
The Vista 9 console was supplied through ESS Audio, Studer's Polish distributor.
More:
www.atmsystem.pl
More:
www.essaudio.pl
More:
www.studer.ch