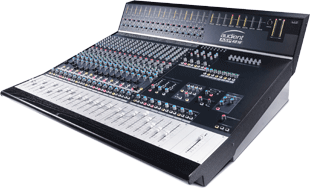 The forthcoming SAE Alumni Convention at the Berlin SAE institute will see Audient's Simon Horn and on Luke Baldry in attendance to promote the company's ASP4816 mixing console ahead of its US debut at the AES Convention in San Francisco. Now a full-time resident in Germany, Horn intends to take the opportunity provided by the SAE to connect with Audient advocates and provide hands-on with the console.
Launched earlier this year, the compact desk from Audient is loaded with all the key features found on a larger console and benefits from the analogue circuitry also found in the larger ASP8024.
The Berlin event is open to all SAE students, SAE alumni and industry representatives, offering opportunities to network and attend workshops. This being the eighth of its kind, SAE Berlin hopes to build on the success of last year's event, which was billed as 'one of the most important gatherings of the media industry' with visitors counting over 2,500. Registration closes on 7 October.
Audient is building its profile in educational institutes around the world, with SAE Institutes in London, Rotterdam, Amsterdam – and, most recently, Bucharest – investing in Audient equipment.
See also: