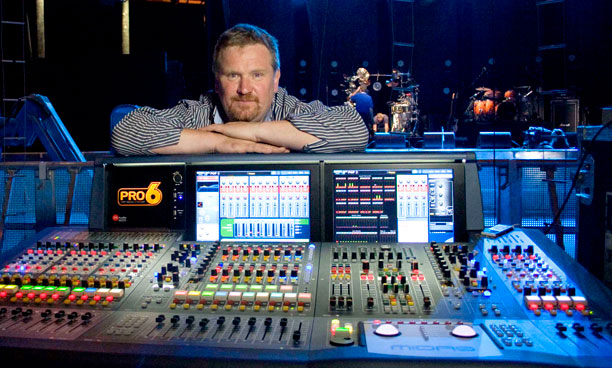 The relentless touring schedule that found Faithless repeatedly crossing Europe from early April saw the band alternating two Midas Pro6 FOH systems between gigs.
Long-term front-of-house engineer Mark Kennedy is manning one of two Pro6s from Britannia Row, while the other travels to the next venue with the rest of the system. Kennedy first used the Pro6 in anger during band rehearsals, taking the day's recordings to work on settings after the band had left. With drums, bass, guitar, keyboards, percussion and two backing vocalists, plus the two main vocalists and sequencer, the board's 64 channels were quickly put to use.
'I'm using 56 inputs plus eight returns, so the board is maxed out,' he says. 'I'm also using all the onboard FX, and I'm very happy with the sounds I'm getting from them. I started with a whole FX rack and by the end of rehearsals there was a big pile of units in the corner.
'The Pro6 has offered a lot more detail to the show. There's a huge amount of difficulty with onstage spill; there are16 channels of large diaphragm condensers on the percussion alone, then a massive side fill rig which is flat out. So it has to be very finely EQ'd, which the Pro6 has excelled at.'
During the summer's festivals, Kennedy was been able to compare the sounds of various consoles at FOH: 'The Midas sound is so much better,' he says. 'I would describe it as certain other digital boards sounding like an mp3 whereas the Pro6 is more like vinyl. You really hear the difference in the high end and the dynamic range. It's so much better.'
After this leg of the tour, which has included trips across to Eastern European and back, Faithless head to South America before more dates in Australia and Europe. 'We're out until April next year, and I'll probably take an XL8 out for the last six months of the tour,' Kennedy says.
More: www.midasklarkteknik.com