Comfortably Britain's busiest railway station in terms of passenger handling, London's Waterloo places public announcements high on its list of priorities. Whether travel information or emergency directions, any announcement must be clear and audible to everyone who needs to hear it.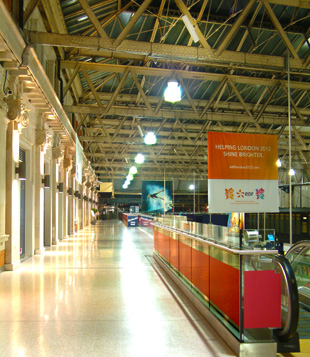 Traditional transport hub structures and building materials meant that Waterloo suffered from poor intelligibility, with the reflective surfaces such as marble and glass causing high reverberation times. Serving one of the busiest cities in the world –around 350,000 passengers each day – intelligibility was a problem. But with the recently overhaul of the audio system, this is now much improved.
Centred on Tannoy's new VLS Series, upgrade to the PA system was undertaken by Glasgow-based TG Baker at the request of main contractor, NG Bailey Rail for the design and commissioning phase.
'We've used Tannoy's QFlex digital beam steering range at other transport projects in the UK, including a major installation at Glasgow Central, but this is the first time we have used the technology available in the new passive column range,' says Brian Andrew, head of TG Baker's Railway Division. 'The VLS was a perfect solution for the space, as it fitted in with the overall architecture and allowed us to use the existing structure to hang the loudspeakers. It also provided the audio coverage that was essential for a busy transport hub like Waterloo. Both the styling and audio quality of VLS Series fits very well with the recently built prestigious retail balcony and the high end stores that it contains. The VLS loudspeakers, once commissioned, provide the balcony area with the same quality and coverage as that of the active 'intelligent' loudspeakers that cover the main concourse area.'
Comprised of three models, the VLS Series is an important part to Tannoy's product column array loudspeaker range, serving 'architectural audio' market – where maximum intelligibility and minimum aesthetic impact are the driving concerns. Building upon the success of its flagship QFlex self-powered steerable array system, VLS Series offers A/V contractors and consultants an alternative solution in the shape of a passive device offering balance of performance and cost, when active beam-steering may neither be required nor affordable.
With transducer technology adapted from QFlex, coupled with an innovative new passive crossover network design, VLS Series is the first Tannoy product to incorporate FAST (Focussed Asymmetrical Shaping Technology), delivering unique acoustic performance benefits not previously seen across a full range of passive column loudspeakers. Central to this is its asymmetrical vertical dispersion, gently shaping the acoustic coverage towards the lower quadrant of the vertical axis. By the nature of a typical application, an ideal column loudspeaker should be biased in the vertical plane towards the audience and away from reflective surfaces above (like glazed roofing) which are detrimental to intelligibility. FAST also facilitates quicker, easier installation with less need for tilting or specific concern for optimal mounting height.
See also: