Tokyo's Shinagawa Intercity Hall provided the backdrop for the recent launch of d&b audiotechnik's V-Series loudaspeakers in Japan.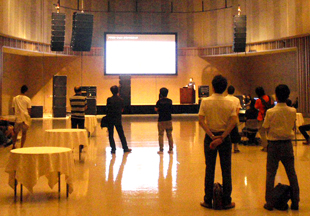 'Everyone knows we are very conservative in Japan, even in pro audio,' says Shinchiro 'Yone' Yonekura, d&b's Japanese agent. 'When I decided the best way to introduce the new V-Series was a practical demonstration in a proper live venue, I invited many people – sound engineers, system designers, audio consultants and our dealer network of course. But I didn't expect more than a hundred people to turn up.'
Yonekura launched the T-Series in similar fashion a few years ago. Although that event didn't draw as many people, the growing uptake of the T-Series in Japan ensured more attention this time around.
Yonekura rigged a standard LR array of seven V8 boxes per side and let the loudspeakers do the talking: 'The system performed flawlessly,' said visiting engineer Takuya Sugawara System tech engineer of MSI Japan.
'We were all very impressed with the performance of the V system – it had that classic d&b voicing to which we have all become accustomed and a feature that makes our lives so much easier. It had considerable power for a small to mid-size line array. Perfect really.'
'We also introduced our new Sales Director for Japan, Masayuki 'Mack' Miyamura, Yonekura adds. 'Although he is a well known figure in the industry, having previously represented a leading console manufacturer, his presence at our event was the ideal opportunity to consolidate his relationship with the industry in his new role.'
More: www.dbaudio.com