Leading Middle East event production company Sound on Stage has added a Coda Audio Airline LA-12 loudspeaker system to its inventory.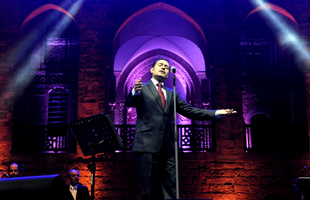 Founded in 1992 by brothers Mazen and Rawad Saad, Sound on Stage serves a variety of high-profile events from offices in Dubai and the Lebanon. Having run other large-format line array systems, the company had decided that the time had come to upgrade: 'We wanted to invest in a more advanced audio system, to take advantage of the latest sound technology,' says Rawad. 'We auditioned several and, following a meeting with Paul Ward, Coda's representative at the Palme show in Dubai, were invited to spend a few days at their headquarters in Germany.'
Mazen and Rawad were given an insight into Coda's technology and had the opportunity to listen extensively to the full Coda range in the company's large, purpose-built demonstration space. On their return, the new system was put to use at Lebanon's Beiteddine Festival. Set in the mountains above Beirut, the festival offers music ranging from Oriental and Arabic to, jazz, rock and opera with a full orchestra.
'We have been doing the festival for 13 years and we were very excited about using the LA-12 system for the first time,' says Rawad. 'We were confident that it would deliver the kind of sound quality that some of the musicians had been asking for and we weren't disappointed.'
Coda system engineer Gareth Jones flew to Lebanon to support Sound on Stage at this first major use of the system: 'With a large 15m deep orchestra pit directly in front of the stage, we decided to fly the entire system stage LR on custom towers,' he says. 'The main audience area was 50m wide and rose 14m over a 60m throw. I worked with Sound on Stage to design the system in Ease Focus II, which not only provided the LF rejection required from the orchestra pit, but also seamless coverage of the entire audience area.'
The system comprised 18 LA-12 three-way line array modules and 12 SC8 sensor-controlled multi-pattern subs, with eight G308s for front fills. System processing and power was delivered courtesy of Coda RC40/20 racks, which provide a 'plug –and-play' solution.
'No system equalisation was required to deliver a stunning-sounding event,' says Gareth. 'All the shows at the festival were very successful and everybody was very happy with the sound,' Rawad confirms. 'The LA-12 sounds very different from other systems, it has excellent audio quality, it delivers a very clear but powerful sound.
'Coda's technical support has also been very good,' he adds. 'Having Gareth with us at the Beiteddine Festival was very reassuring and helped us to set the system up to sound fantastic. We can now take the knowledge that he shared to help the system deliver excellent results in a wide range of events in Dubai this winter.'
More: www.codaaudio.com