After its recent refit, the La Playa Bar in the Black Sea Coast resort of Varna has a completely renewed interior and a Martin Audio architectural AQ loudspeaker system.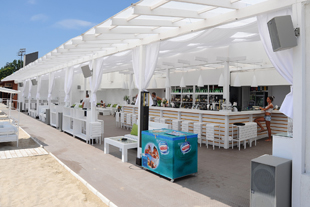 Provided by Bulgarian distributor Imperia AV, the installation features eight AQ8 satellite speakers in three zones – an indoor area, front outdoor area and a delay line covering remote spots on the beach.
Four AQ212 sub-bass speakers have been placed along the boundary between the outdoor and indoor areas, with all loudspeakers powered by Martin Audio MA2.0 and MA3.0 amplifiers (two of each) managed by a dedicated DX1.5 digital controller. According to Imperia AV's Galin Aleksiev (who has also specified industry-standard DJ equipment), a significant part of the quality sound is played by silver-plated Van Damme signal and power cables.
'We were looking for an audio system that offered a soft and uniformly distributed lounge sound on the one hand, but which at the same time would bring power and dynamics to both DJ and live performance,' says Milen Minkov from the bar's management team. 'Following a brief on-site demonstration, we were entirely convinced that Martin Audio was the only choice that could offer this complex combination at a reasonable price. The configuration and placement of the system was unexpectedly quick and easy.'
To christen the refurbishment, the hosts brought in Tri-O-Five, and as early as the soundcheck, one of their artists remarked: 'I haven't heard myself sound that good for a long time'. Experienced DJ, Ilko, also remarked on the impact the new Martin Audio system was having on on his Traktor controller.
La Playa gave its club-orientated customers their first big surprise on the second evening when Silicone Soul took over the turntables. With 1,000 people enjoying a dynamic set, spiced with elegant mixer work spanning the entire frequency range, the club could see (and feel) the benefit of its investment.
More: www.martin-audio.com