A comprehensive renovation project at St James Church (in Buckinghamshire, UK), saw house of worship specialist company, SFL Group taking, on a substantial audiovisual technical installation.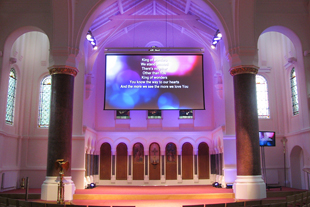 Key to the installation was a digital network using a Roland M-480 Live Digital Console, M-48 Personal Mixers and Digital Snake. The SFL Group was responsible for the design, supply and installation of the audio network, along with video and lighting systems that included a bi-directional A/V link-up to the church centre 300m distant.
The multi-function venue serves around 800, with St James holding up to 11 worship events on a Sunday, with upwards of 750 people taking part in the services and activities. Music plays an important role in the services and in attracting new members, particularly with the younger contemporary church goers. The audio solution designed by Tim Horton at SFL Group, needed to accommodate a variety of set-up configurations from spoken word, to a traditional choir and organ, to eight-piece contemporary bands and solo singer/songwriters that may perform in any one day.
The solution needed to be compact, simple to operate, and flexible to cater for these different uses, while taking into consideration the 150-year-old structure of the building.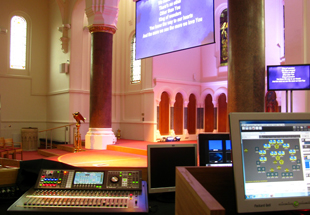 The Roland M-480 console provided the 48 channels required and combined with the Digital Snakes (S-4000S 32-input/8-output Modular Stage Unit, S-0816 FOH Unit and S-4000D Distribution Unit) gave a dramatic reduction in the technical system's footprint and cabling. Digital audio transmission via Cat5e is supported by the Digital Snakes, with the M-480 and Roland S-OPT optical converters distributing audio to the main church and 300m to the centre without any delay or loss in quality. M-Six M-48 Live Personal Mixers eliminated the need for on-stage monitors, and allows musicians to control their own in-ear mixes.
'This has been a long-term project with a fair degree of technical challenges,' says Tim Horton, Project Manager for SFL Group. 'We take great pride in handing over the finished product that meets the church's technical requirements both on-time and on budget, while maintaining the highest possible standards. The flexibility and ease-of-use of the Roland products certainly helped us to achieve such a high quality solution.'