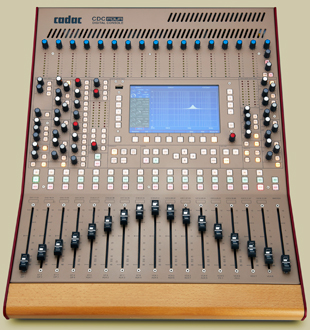 Cadac reports that its CDC Four console is now in full production and shipping to distributors around the world.
The CDC Four is a compact digital mixing console with 16 analogue mic preamps with gain control, fully emulated Cadac EQ, and an expandable input count of up to 64 inputs with a dedicated stage rack. 'We have kept pretty quiet until now about just how good the CDC Four actually is,' says Cadac Marketing Manager Patrick Almond. 'But with the final production version successfully rolling off of the line in numbers, we can state categorically that this is an amazing sounding – truly Cadac sounding – desk. As our first digital production console, and a ground breaking, proprietary compact design, the success of this product development is a major milestone for Cadac.
All mic preamplifiers are 96kHz/24-bit. SHARC DSP is fourthth generation with 40-bit floating-point resolution, four of which are used in the desk.
The onboard 16 mic inputs, eight stereo inputs, six output buses and eight auxiliary sends are further expandable by connection of the dedicated stage rack, via Cadac's proprietary Megacomms twin coaxial transmission system. Uniquely this allows the stage rack to be positioned up to 300m away and provides an additional 32 mic
inputs with digital control of the preamp functions and 48V phantom power, signal present and overload indicators, and onstage access to up to 16 outputs with signal present and overload indication.
'The CDC Four gives an exciting new high performance offering across the widest range of pro audio and A/V applications and installation environments,' Almond says. 'While the wide ranging specification includes a number of features and functions, the relevance of which that might not seem readily apparent to a traditional mix engineer, these ensure the console's effectiveness in other A/V orientated sound design and installation applications. Equally, within certain given constraints, there is no reason, in terms of sound quality, I/O count and configuration and mix operability, why you could not mix a West End show or a front line sound touring production on the CDC Four. In terms of sound quality, it would easily be the equal of or an improvement on the console you might normally use.'
In the UK, Cadac distributor CUK Live has already taken delivery of its first CDC Fours. 'As a standalone digital console the CDC Four delivers Cadac quality and performance at a previously unheard of price point,' Applications Manager Iain Cameron says. 'However, the real strength of the CDC Four comes to light when you use it as a system, packaged with the stage rack. With the CDC Four as a package, you get a Cadac quality digital console, a Cadac quality stage box, linked together via Cadac proprietary transmission system. No other manufacturer offers this quality, this feature set and a transmission solution that allows the user distances of up to 300m between console and stage box for around £9,000 ex VAT.'
In use the CDC Four approximates analogue operation to a degree not previously achieved with a compact digital console; the desk is operable by someone who has never used a digital desk before. This is achieved via its intuitive interface and less menu-dependent operating system, 7-inch high-resolution TFT colour display and fully-motorised channel faders. Central is the extended channel strip, of which the control screen is effectively an extension; even the outputs have their own channel strip with access to the same processing power and facilities as the inputs.
The Central Assignment Module (CAM) controls Equalisation, Group Assignment, VCA control, Effects, Auxiliary sends and Dynamics. Each of these functions has a discrete control with no 'doubling up' or menu scrolling, enabling the desk to be operated as quickly as any analogue counterpart. Complex buss routing, auxiliary pre/post assignment and detailed dynamics are shown in the display, leaving more front panel space for quick access to real time functions.
Beyond offering 16 channels of Cadac mic inputs and EQ at such an astonishing price point, the CDC Four is uniquely specified in several other respects, compared with other compact designs, and mix consoles costing far more. These include the eight true stereo inputs, inserts on all inputs, direct outputs for all mono channels, and a full input meter bridge. Other top end features include eight dedicated Aux busses, two FX busses, four independent Group outputs, LR monitor output mono sum output, and line level LR output.
The CDC Four is competitively priced with UK pricing on a complete console and stage rack system coming in under £9,500; the CDC Four costing £5,799 and the CDC Four 32/16 stage rack £3,299 (ex VAT).
More: www.cadac-sound.com