Professional Audio Technology has agrred a contract with Global Television for the supply of Lawo, DirectOut Technologies and Comrex products.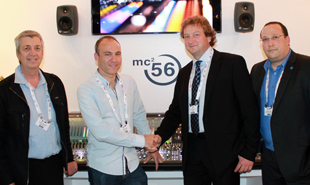 Two days after the official launch of the new Lawo mc2 56 MkII on the opening day at this years IBC, Marc Segar (Director of Technical Services), Terry Manley (Chief Engineer for Global TV), Philip Lawo (CEO of Lawo) and Patrick Salloch (MD of Professional Audio Technology) toasted Global Television's purchase of a new mixing console.
The purchase of a 48-fader mc2 56 MkII with HD core and Dallis I/O frames was accompanied by that of a V_Pro8 SDI embedder/de-embedder with various video features, which was also launched by Lawo only days before the deal was announced.
'To have sold this amazing new console within 48 hours of its launch is certainly the highlight of the show for us,' says Salloch. 'The fact that Global TV also purchased the new V_Pro8 in conjunction with the console is icing on the cake.'
'We are using our first mc2 56 on the new series of Big Brother and are very impressed' says Segar. 'Technically, the desk is excellent. In particular, our operators love its interface, flexibility and the new colour coding aspects of its operation. With the new version of the mc2 56, Lawo is setting a new standard in Australian television and radio.'
Also included in the deal were four Andiamo2.XT SRCs, a ma2chbox.XT and various breakout panels form DirectOut Technology, which will see their first use during the recording of My Kitchen Rules. A further four Comrex DH20s were also part of the purchase.
'Once again, we were fortunate enough to be able to supply Global Television with world-class manufacturers to add to its already impressive production arsenal,' Salloch adds. 'We value our ongoing relationship with Global Television and are looking forward to continuing our work with them.'
See also: