Attracting some of the Netherlands' best singers and bands, the Maximaal Hollands arena concert in Beursgebouw Eindhoven called on a PA system from Hoevenaars LGV. With a wide array of instruments and requirements, the system has to powerful, flexible and reliable.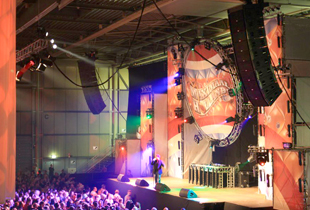 For the main PA, the company used EAW KF760 boxes for the main rig with EAW KF730 for fills and delay, with Lab.gruppen amplifiers powering the entire event. Regardless of the make or type of loudspeaker system, the venue size or acoustics, or the programme material, the integral Lake Processing in the PLM Series allows sound designers and system techs to create a consistent sound with minimal system set-up requirements.
'We have about 60 Lab.gruppen amplifiers,' says Pieter Verkooijen of Hoevenaars. 'Fifteen of those are PLM Series units, so we have that added flexibility.'
The PLM Series amplifier platform integrates into the Lake Processing environment. All PLM Series models contain two full-featured Lake Processor modules, each offering precise settings for gain, delay, crossover slope, equalization, and limiting. The Lake Processor gives audio professionals unparalleled power to shape and optimise sound in a variety of environments.
'The integrated Lake Processing is a big leap forward,' Verkooijen confirms. 'The cohesion between the processing of the signal and amplification is far greater then when working with separate units. Using the PLM you can feel – and hear – that the unit was designed as an integrated processing and amplification system and doesn't suffer from the "communication errors" you have with separate units that are blind to each other when it comes to speaker load and signal vs amp voltage handling.'
The PLM Series amplifiers have proved a successful and roadworthy purchase for Hoevenaars LGV, as Verkooijen agrees: 'We have experienced considerable improvements in sound quality with the various systems we have, some of which we struggled with for some time prior to using PLM Series. As well as superior sound quality, they are also durable, roadworthy and have a high power-to-weight ratio.'
More: www.labgruppen.com
More: www.eaw.com