London's Hippodrome has reopened as the Hippodrome Casino, following a multi-million pound conversion by leisure and gaming entrepreneurs Simon and Jimmy Thomas.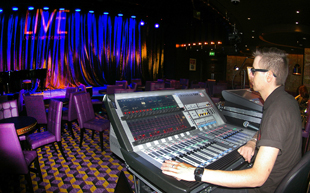 Alongside its casino, this incorporates an intimate 182-seat cabaret theatre – The Matcham Room. Set on the footprint of the venue's original stage, responsibility for the technology infrastructure fell to Willow Communications, who called in Harman Professional UK & Eire distributor Sound Technology to provide a Soundcraft digital mixing desk at very short notice. Realising the urgency and with a show scheduled for that night, Willow MD Stephen Barlow contacted the company first thing in the morning and by 3pm a 32-channel Soundcraft Vi1 had been installed.
Good news for Willow Communications Project Engineer, Chris Hampson, who had recommended the desk, and head sound engineer Danny Kissane. Both men had previously used the larger Soundcraft Vi6, and Kissane had taken it on tour with Roots Manuva (having first discovered it while stage manager at Ronnie Scott's club in London).
'Having read reviews about the Vi1, to get 32 channels in such a compact footprint made it a logical choice,' Hampson says. 'The footprint was an important factor – but so was the need for a recognisable front end as there would be visiting sound engineers. Sound Technology's speed of service was fantastic and it got us out of a tricky situation.'
'I love this desk – it is perfect for a small, multipurpose space,' adds Kissane, who moved from BBC Drama Birmingham to live sound. 'It's just a very easy desk to use as everything you need is on the top page. The preamps are jgreat, delivering lots of low-end body with rich highs that seem to go on forever without getting glassy. And with the Lexicon FX onboard, I no longer have to carry my PCM81 reverb.'
The Matcham Room is named after the theatre's architect, Frank Matcham, while consultants on the build project were Charcoalblue. Artists who have already appeared at the venue include Tony Christie, Dionne Warwick, Janie Dee and Maria Friedman.
More: www.soundtech.co.uk