Radionomy – a free online radio station service – is to launch in the US with its new G2 platform.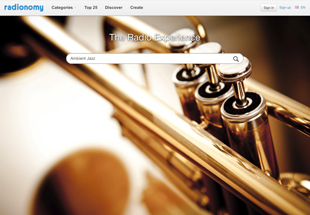 To date, Radionomy has been used to create more than 6,000 online radio stations, and the service has won more than 13 million unique listeners around the world. The service is free and web based – users have a simple dashboard to manage a station without requiring complex software. It also provides a content library of 80,000 songs and other items, audience reporting metrics and storage for programmers who want to broadcast their own songs.
'Consumers, as well as professional creators of content, have a growing interest in curation, and the services and tools that enable it,' says Michael McGuire, Research VP with Gartner's Media Industry Advisory Services. 'Successful services will focus on enabling users' creativity, help them create compelling content, provide them with a palette of social-sharing tools, and make it easy for them to monetize their work.'
'Radionomy is for fans who are passionate about creating and sharing content on their own station, and for whom sharing a song or playlist just isn't enough,' says VP of Business Development, Thierry Ascarez. 'It's also for listeners who may not want to create their own station, but want to discover and enjoy content programmed by a person, not an algorithm.'
The new version of the service promises improved ease of use and expanded customisation options.
Among its features, Radio Manager is the web-based dashboard that centralises the functions needed to run an online station. The Planner helps producers create and manage a station, while an updated version of the Radionomy iPhone app and new versions of the iPad, iPhone and Facebook apps extend use of the service.
A new version of the Android app and a Desktop app will be available in November 2012.
More: www.radionomy.com