Recording specialist Chandos Records has invested in a 32-fader Studer Vista 5 digital mixing console, increasing DSP and I/O capacity over the company's previous desk, which had 'served it well' for a decade.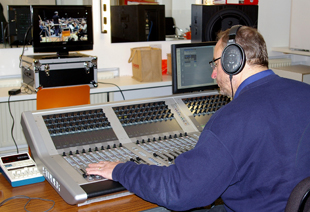 With an eclectic and award-winning catalogue of classical music – much of it orchestral, choral and chamber music – the UK-based operation is renowned for its natural sound quality. Founded in 1979 by Brian Couzens, the independent label is now run by his son Ralph: 'We needed 96kHz, 24-bit capability, which is our standard for recording,' he conrifms. 'Although our old desk would support 96kHz, this was only by halving the number of available channels and buses. We were faced with cutting it down to 48kHz or linking two desks together with Madi cards – but that would have meant buying a second desk.'
The 32-fader desk has 20 channel strips, optimised for input channel operation, and 12 additional versatile strips for operating output and input channels. By using the standard Vistonics screen, up to 52 outputs are under immediate control. Up to 240 channels can be accessed from the desk and laid out in any order, with the Vistonics system giving instant control over all related channel functions. The DSP power and I/O are configured to customer requirements.
The path that led Chandos to Studer paved with extensive recording work with the BBC Philharmonic and Symphony Orchestras, the BBC Concert Orchestra and BBC National Orchestra of Wales.
'We were aware that all their resident BBC facilities were equipped with various Vista consoles,' Couzens says.
It was at BBC Wales that one of the resident technicians recommended that Couzens try their in-house Vista 8, and offered to walk him through the operating process. 'I instantly fell in love with the way the desk worked,' he recalls. 'I saw that Studer produced a Vista 5, which was portable – this was vital with location work.'
He and assistant engineer Jonathan Cooper attended a Studer Broadcast Academy event when Studer volunteered a demo rig for evaluation. Chandos Records set it up at Watford Colosseum – and Couzens was convinced.
Typically, Chandos records orchestral ensembles in excess of 100 musicians plus chorus – which places a heavy requirement on the I/O count. One such instance was at Watford Colosseum where the new console was used to record the complete orchestral works of Witold Lutoslawski by the 100-piece BBC Symphony Orchestra, conducted by Edward Gardner – for release later in 2012.
'We had 40 mic preamps and eight line outputs in the stagebox and record via Madi to our Sadie LRX2. Sound quality is so important and the Studer A/D converters [the most important stage in the process] in the Stagebox are also fantastic,' Couzens says.
'With DSP power you are mixing complex sound into a stereo bus but with the Vista 5 the sound and image stay true whatever the content you are mixing,' he adds. 'With our previous desk the sound could run out of steam with the combination of DSP power and A/D's but with the Vista 5 everything remains crystal clear whatever the circumstances. I also love the desk's EQ, its operating system is intuitive and it's so configurable if we need to duplicate and expand.'
More: www.studer.ch
More: www.sadie.com
More: www.chandos.net