Actor/singer/dancer, Bernd Julius Arends has performed in large musical productions for more than 20 years, giving him extensive experience of productions such as Beauty and the Beast, Jesus Christ Superstar, My Fair Lady. When the opportunity came to turn the ambition of establishing his own theatre, he was able to call on his experience of theatres across Europe and the sound systems used in them.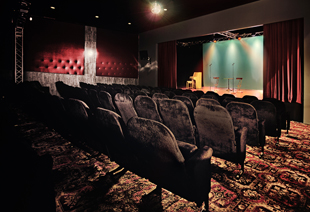 The result is the Katielli Theater in the German city of Datteln, which has become a favoured venue with the German cabaret and musical communities. Opened in 2010, the theatre – formerly a small art-house/repertory cinema – has recently been fited out with a new t&mSystems audio system, designed and installed by Prosound Eventservice.
'To open a private theatre these days is a substantial undertaking, particularly with funding,' he says. 'That has made it very important for us always consider the best possible price-to-performance ratio in every area, including the audio system.'
Arends set the budget and t&mSystems arreanged in listening tests with Thorsten Brinkmann of Prosound Eventservice, in order to evaluate the most suitable system: 'Intelligibility was a major requirement, of course, but also full-range music reproduction" Brinkmann says. "The t&mSystems Unity series really stood out from the crowd – I couldn't believe the price, given the standard of construction and high-quality components used. The sound quality is outstanding.'
The Katielli Theater FOH system comprises two t&mSystems Unity 12 loudspeakers and XS115T subwoofers left and right, and a t&mSystems Unity 10 for centre fill. Four active t&mSystems FG101A are available as floor monitors.
More: www.t-m-systems.com
More: 
www.prosound-muenster.de
More: 
www.katielli.de