One of the largest sales in L-Acoustics history, LD Systems has purchased a 'mega-stadium-sized' K1/Kudo loudspeaker system. The order from the Texas-based company comprises 386 enclosures, including variable curvature, constant curvature and coaxial systems, all powered by LA-Rak.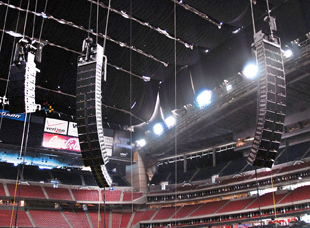 Driving the investment is the Houston Livestock Show & Rodeo, which has been an annual booking for LD Systems since 1985. The event sees up to 75,000 people pack Reliant Stadium each night for three weeks of 'rodeo action' and concerts from some of the biggest names in pop, rock and – inescapably – country music.
'RodeoHouston will require 280 L-Acoustics enclosures powered by 44 LA-Raks making it the largest stadium fully equipped with K1 worldwide,' says Rob McKinley, co-founder, president and owner of LD Systems. 'As the sole audio provider for the rodeo, we'll basically be using our full complement of K1, K1-SB, Kudo and Kara to cover the event. We recently flew a mockup system at the venue to give their management team a preview and the comments were extremely favourable.'
'I can't even begin to say how tremendously impressed I was with the demo,' says Houston Livestock Show & Rodeo COO, Leroy Shafer, who has been with the organisation for nearly 40 years. 'Reliant Stadium has always been a challenge to tame, but when we heard LD's new system – even though it was only set up to cover one quadrant of the space – we were absolutely amazed.
'Thanks to LD Systems, our concerts and events have always represented the leading edge of presentation technology,' he adds. 'But after hearing the K1 demo, we can definitely see and hear that we are taking a significant paradigm step upward in the sound production for RodeoHouston.'
'When our Entertainment Department tells agents and road managers about the new system, the first question is about how much of the stadium will be covered,' Shafer says. 'And when we say a hundred per cent of it, there's usually silence on the other end of the phone followed by, 'wow!'. We knew this system would generate significant impact for us, and I can tell you that it's the talk of the country music scene right now.'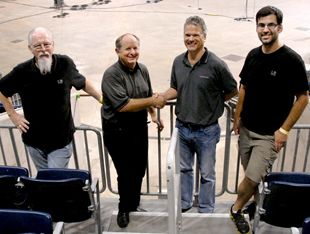 In the eyes of Robert Ausmus, LD Systems' long-time Director of Production Services, an L-Acoustics system was the only logical choice: 'It's all about performance audio here at LD Systems, so we've spent the past two years carefully evaluating all of the options on the market looking for the right system to carry us through the next ten years and beyond,' he says.
'In addition to having precise pattern control, K1 has the ability to throw great distances and sonically stay intact the whole way, which was of huge importance for RodeoHouston. Plus, seeing that it's a descendant of V-Dosc, the system has instant traction and acceptability in the global touring market. I also really love the whole packaging of L-Acoustics' total loudspeaker-amplifier solution. The amp racks are brilliantly thought out, the LA Network Manager and SoundVision software platforms are both fantastic, and guaranteed consistency between systems around the world absolutely speaks volumes.'
'Our first experience with K1 certainly turned our heads,' McKinley agrees. 'But it's not just about what we heard; it's what we were hearing from other engineers that we highly respect. With L-Acoustics, we felt we had found a product that was not only the accepted standard that the market demanded, but also the product that we all agreed had the best technology with exceptional staying power.'
'Although we've focused a lot on regional sound, special event production, corporate staging and systems integration in recent years, touring sound has always been at our core,' he says. 'Our interest with K1 is very much to increase our participation in the touring market again, and through tours of our own as well as partners in the Rental Network we feel we now have a very strong presence to do that.'
The Houston Livestock Show & Rodeo celebrates its 81st anniversary in 2013, and draws more than two million people each year.