HHB Communications has been named Master Distributor for DiGiCo's UB MADI 2.0 USB device in the UK and Ireland, following the recent appointment of HHB as DiGiCo's UK Broadcast Dealer.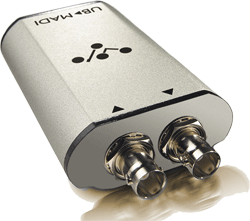 UB MADI bolsters DiGiCo's live broadcast product line by providing up to 48 simultaneous channels of Madi I/O (full-duplex) in and out of a PC or MAC via a USB 2.0 port. Compact and portable, the UB MADI is bus powered and capable of transporting signals up to distances of 100m.
Despite numerous alternatives, Madi is still the preferred method of transporting large numbers of audio channels for large-scale productions due to its low latency and reliability. UB MADI's processer and driver provide low latencies with simultaneous Madi playback and recording with any compatible computer or laptop.
UB MADI features the latest Stealth Digital Processing FPGA from DiGiCo's SD range of consoles, extending audio I/O over USB 2.0 with a DiGiCo mixer to 48 simultaneous channels.
'The release of UB MADI will be welcomed by broadcast engineers because it simplifies the process of Madi recording and playback,' says HHB Director of Sales, Martin O'Donnell. 'The compact size of UB MADI also makes it a very versatile product that engineers can carry in their pocket.'
UB MADI is available now from HHB at a list price of £750.00 ex VAT (€945.00).
More: www.hhb.co.uk