HHB Communications has been appointment exclusive distributor for Yellowtec in the UK and Ireland. The announcement was made at IBC 2012.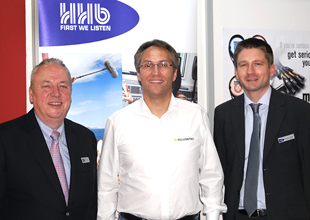 Yellowtec offers a selection of solutions for the broadcast media industry, with a product range comprised of m!ka microphone and monitor mounting systems, Litt LED signalling, PUC2 USB audio interfaces, the b-Line XT Telephone Hybrid and the VIP Voice Processor.
Yellowtec is also launching a new iPad/iPhone app that adds sophisticated audio editing features for recordings made with iXm. Designed as an all-in-one handheld recorder, iXm provides auto levelling for consistent input volume while recording. It is available with various interchangeable mic capsules – omnidirectional, cardioid and supercardioid pick – and has an SD card slot that accepts standard SD or SDHC memory cards and stores files as WAV, BWF or MP2. A dual power concept provides a total operation time of up to 16 hours – it ships with a built-in, rechargeable li-on battery and features a redundant battery compartment for three standard AA cells.
'The Yellowtec product range offers a diverse selection of innovative solutions to fit the needs of any facility,' says HHB Managing Director, Ian Jones. 'The iXm Recording Microphone continues the concept that we found so successful with the HHB FlashMic, so it is only natural that we work closely with Yellowtec on this product. Other products, like those in the m!ka line, also have strong relevance to our entire customer base.'
'HHB is the perfect partner for us in the UK because their knowledgeable staff will ensure that customers receive a high level of sales service and technical support,' adds Yellowtec Sales Director, Andy Mikutta. 'We are confident that HHB's strong marketing will help build our sales of innovative Yellowtec products in the UK market.'
More: www.hhb.co.uk
More: http://yellowtec.com