Stockholm's classical music fans assembled for their annual Gärdetkonsert picnic outside The Maritime Museum to see the classical prom presented by The Royal Stockholm Philharmonic Orchestra conducted by Marc Soustrot.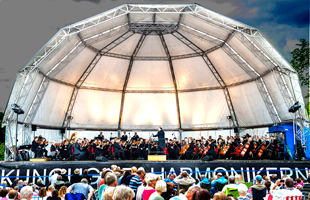 For at least 20 of the 36 past events, the sound has been mixed by DM Audio's Lars Wern. Fielding its new Martin Audio MLA Compact system, the leading production company ensured that not only the orchestra but also Swedish soprano Malin Byström were heard as never before by the 25,000-30,000 people who attended.
Presented by actor Samuel Fröler, the comprehensive programme was played out through 12 MLA Compacts, rigged on each side of the stage, with three DSX subs set up in a cardioid pattern on each side (with the centre sub turned around). Out fill took the form of six Martin Audio W8LM Mini Line Array elements, covering one flank (with trees surrounding the other), while a delay mast, set around 55m back, carried four W8VDQ enclosures in pairs. Although the delays were scarcely needed, they were ready to serve the audience seated at a higher elevation in the far back stands.
Lars Wern, who designed the sound system for the event and mixed on a DiGiCo SD8, was assisted by Martin Audio's Martyn 'Ferrit' Rowe, who acted as system engineer. The main mix was effected on a DiGiCo SD8, with monitor and strings premixed on an SD10. Down at the stage, monitor engineer Robert Ernlund doubled as premix engineer.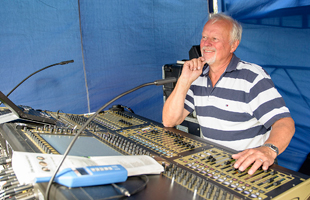 All 54 violins were miked using Countryman B3s, with all other instruments assigned to Neumann KM184 and AT3035. The vocal mic was a Countryman E6 on a Sennheiser SK2000 transmitter, while hand-held microphones were wireless Sennheiser SKM2000/965.
Wern reports that MLA Compact was 'the perfect solution for a classical orchestra', since not only were the instruments reproduced transparently but there was no bleed back onto the stage: 'Most of the stage area was programmed as "hard avoid" in the Design file,' he explains. 'We predicted an SPL, 3m from the front of the stage to the farthest point of the audience (about 100m back), to fall by only 4.5dB. This worked very well, since you felt like you were only a few metres away from the source even though the distance was 85m.
'I have not heard anything that sounds as nice as this – other systems don't come near it,' he adds. 'But the most important virtue is controllability so you can steer it into position and keep the SPL even.'
The production team had been restricted to sound thresholds: 'We wanted to improve the sound and in particular maintain an even SPL over the distance of approx 85m-110m,' Wern says. 'If you can increase your dynamics without exciting the levels, that's great.
'The delays added sound to the slightly higher positions in the back of the audience area.'
He also notes the advantage of the MLA Compact's smaller footprint and greater definition than other systems he has used on this event: 'We received a lot of positive comments after the show and the management, in particular, was very impressed. Even the local newspaper made reference to the high number of people commenting on the quality of the sound.'
See also:
Martin Audio MLA Compact
More: www.martin-audio.com
More: www.digico.org