From modest roots in 2005, Belgium's Tomorrowland Festival has become one of the biggest events of its kind in the world, with more than 80,000 fans spending three days on the dancefloor with the likes of Skrillex, David Guetta, Swedish House Mafia, Afrojack, Steve Aoki, Carl Cox, The Bloody Beetroots, Paul van Dyk, Fatboy Slim and Pendulum.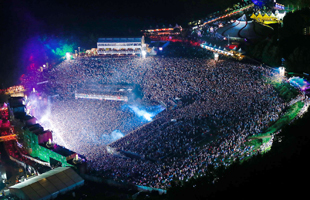 Sound production company Noiz Boyz (from the south of Holland) specialise in electronic dance music sound systems, and has worked on some of the biggest tours and events in the genre. For Toomorrowland, Noiz Boyz rented an L-Acoustics system from Phlippo Showlights in Belgium, according to the requirement of the festival organisers. Across the different stages, they used more than 96 K1 boxes, 102 SB28 and 64 SB218 subwoofers, 56 V-Dosc and 72 KARA boxes. While it was powered by LA8 amplifiers, it was up to Lake LM 26s to provide the processing required to make the event such a success.
'Because we needed a lot of outputs we choose to use Lake LM 26 digital audio system processors,' says Bas Rijsdijk, who together with Emil Jongmans owns Noiz Boyz. 'We needed the outputs because of the restrictions from the town community. Once the LM 26s were plugged into the system, we were able to control every sub stack and every line-array.'
The LM 26 provides a two input/six output analogue configuration that is suited for multi-way loudspeaker crossover, delay and EQ functions. Two LM 26 units may be stacked and linked to function seamlessly as a single 4 × 12 processor, making it an excellent fit for Noiz Boyz and Tomorrowland.
'Another reason for using the LM Series was that these devices are fast, easy to use and that they a really good sound,' Rijsdijk adds. 'On top of that, Lake is a highly respected brand with guest engineers. What's great about the Lake processors is that you have all the units on one screen via the Lake Controller software, so it makes it much easier and faster to work with than other processors.
'The reaction from the organisers of the festival really underlines why we used Lake's LM Series. Put simply, they said it was the best sound they had ever had.'
More: www.NoizBoyz.com
More: www.phlippo.com
More: www.lakeprocessing.com
More: www.l-acoustics.com