Home to the Rockland Boulders minor league baseball team and St Thomas Aquinas College baseball team, Provident Bank Park has been enjoying its fist summer doubling as a concert venue. To provide the best audio quality for its new role, the stadium's management wanted a 'world-class' sound system, and found it in loudspeakers from the Aero Series 2 from DAS Audio.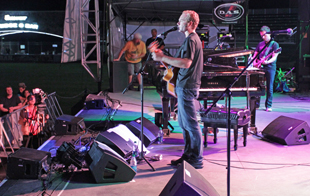 Dynamic Productions – a full event production, sound, lighting and staging company headquartered in New York – was contracted to provide staging, lighting, sound, video and production support for this season's concerts. Working in conjunction with DAS Audio's Miami office, Dynamic Productions owner Brian Rosenblum and his team set up a sound system incorporating Aero 12A line array modules, LX-218CA subwoofers, Aero 8A line array modules and Road 12A powered stage monitors.
'Being a relatively new stadium that had never hosted any prior concerts, we found ourselves with a clean slate in terms of what equipment would be deployed,' Rosenblum says. 'The stage is located in the outfield about 60 feet behind second base and it faces in toward home plate. The main challenges in this venue were that the audience could potentially be seated up to 350' away from the PA (behind and above home plate), and well beyond first and third base. This required a PA system capable of long distance throw and wide 180°-plus coverage. Because of this unique situation, we consulted with DAS Audio's Carlos Henao in an effort to ensure we provided a good loudspeaker fit.'
The stadium has already hosted a variety of well-known acts, including REO Speedwagon and Smashmouth.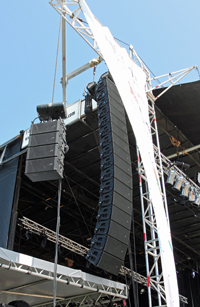 The system Henao devised includes a primary set-up total of 32 Aero 12As – 16 enclosures per side for the house mains. These are augmented by out fills on the extreme left and right using six Aero 8As each. To ensure coverage across the front area of the stage, Rosenblum's team placed another four Aero 12As for front fill. Low frequency support comes from DAS LX-218CA sub bass enclosures on the scene – in a staggered centre configuration. Completing the set-up, a DAS Audio DSP-4080 digital processor handles loudspeaker management.
With the summer concert season in full swing, Rosenblum reports that everything is going well and that several engineers responded very positively to the system.
'I had never worked on a powered PA of that size before and was very impressed by its range and durability,' Jerad 'Gremlin' Reimers, FOH Sound Engineer for Soul Asylum and ReadyGoes comments. 'The system delivered fantastic clarity and great overall sonic representation and response. I can't wait to work on another DAS system.'
'My first opportunity to use the DAS Aero system (Aero 12a/LX218a) was a very positive experience,' adds Neil Schaefer, FOH engineer for REO Speedwagon. 'I was pleasantly surprised at the crisp smooth high end and very solid frequency response. I look forward to the next chance to get in front of this system.'
'Everybody is very happy with the sound,' Rosenblum reports. 'You can walk through the venue and, everywhere you go, the sound is clear, musical, and coverage is consistent. We've had numerous members of the audience tell us how good everything sounds. Perhaps even more important, our client is very pleased. With a first-time endeavor of this nature, you don't always know what to expect. For us, the project has turned out to be everything that we imagined – and DAS Audio was a major part of our success.'
More: www.dynamicprodusa.com
More: www.dasaudio.com