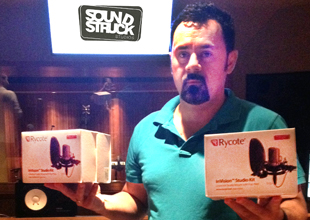 Dubai-based audio production studio Soundstruck Studios has taken a number of sets Rycote InVision Studio Kits from local distributor NMK.
Designed by acoustics guru Wes Lachot, SoundStruck Studios aims to establish itself as an international standard recording facility. 'Soundstruck Studios is equipped with a considerable amount of top-end tube studio microphones,' says Sejoy Mathews, Rycote Sales Specialist at NMK. 'The Rycote InVision Studio Kit not only provides the best suspension but due to its construction provides the studio the great flexibility to use almost any other microphone they procure in the future or even a client's own microphone if necessary.'
The InVision Studio Kit is a complete suspension and pop filter system, which combines the Universal Studio Mount (USM) with a new Universal Pop Filter to provide a vocal microphone suspension and pop filter system that will accommodate virtually any microphone. The Pop Filter is designed to lock tightly on the USM's outer support ring, where it can be left while mics are quickly and easily swapped in the USM.
See also:
More: www.soundstruckstudios.com
More: www.nmkelectronics.com
More: www.rycote.com