A new facility offering recording, rehearsal and live presentation spaces, Castle Rock Studios has become the first commercial studio in Northwest England equipped a Solid State Logic AWS 924 Hybrid Console/Controller.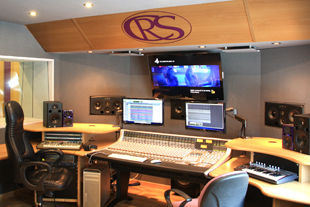 'When researching the market for a suitable desk, we decided to scrap our original plans of going for a basic controller as it soon became apparent that the SSL desk was not only a market leader, but scarcely available in commercial studios in the North West of England,' says John Stretford, Castle Rock Studios MD. 'We spoke to leading producers about the AWS and the overwhelming consensus was that SSL was the way to go. The AWS is the industry expression for quality recordings and professional mindset. The console gives us market distinction, while providing the excellence necessary to make our facility a creative haven.'
The AWS handles everything from capture, mixing and mastering for music recordings to live performances within the Castle Rock facility, providing engineers and producers a dry hire option for their projects, as well as attracting up-and-coming talent, looking for a place to record a project or rehearse with the option of recording. A live presentation room rounds out the studio, providing a platform for showcase performances.
'The Castle Rock Studio is a recording studio that comprises a surround capable control room, two adjacent window-connected live rooms, a vocal booth and editing room,' Stretford explains. 'The AWS gives us excellent control of our three DAW systems and, because we wired all the rooms in the facility back to the AWS, we can offer better options to groups that simply want to come in and use a rehearsal space or host a live presentation.'
The complex also includes three well-equipped rehearsal rooms, fitted with poly-cylindrical diffusers and adjustable wall mounted panels. The largest of these spaces is also equipped for showcase performances and photo/video shoots with HD video projection facilities. All three rooms are connected via patch panels to capture rehearsals when requested, or Castle Rock can accommodate a small orchestra split into the different rooms.
'The AWS 924 is the ideal tool to accomplish the various aspects of our business,' Stretford says. 'We certainly wanted a desk that could address both new media production situations and straight-on recording. In this day of samples and loops, the AWS gives us an advantage when dealing with our DAW software. We asked quite a few industry professionals about what equipment to buy for Castle Rock. While everyone had differing opinions about this or that microphone, outboard mic pre and the like, everyone agreed that the AWS was the best choice for a console hands-down.'
More: www.solidstatelogic.com