With a declared company ethos to 'create iconic buildings with individual interiors invoking an inviting, exciting ambiance', the prestigious Radisson Blu global hotel chain can be judged on the stunning new interior of the Radisson Blu Royal in Bergen, Norway.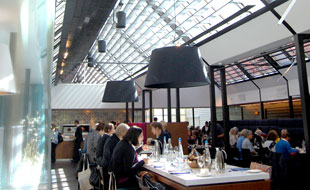 The refurbishment, which included an expansion of the restaurant and conference facilities, saw modern materials and a glazed atrium requiring an equally modern and innovative loudspeaker solution.
The lack of a cavity ceiling space ruled out conventional in-ceiling loudspeakers in favour of self-contained 'pendant' devices that could be hung from the apex of the atrium – specifically, Tannoy's OCV Series. Introduced in 2011, this line marked Tannoy's first serious foray into pendant speakers, with the 6-inch OCV 6 and 8-inch OCV 8 models.
Installed by Bergen-based AVAB-CAC, the OCV install combines the acoustic performance and value of Tannoy's CVS Series in-ceiling products in an architecturally sensitive, self-contained, lightweight cylindrical enclosure. They were engineered specifically for applications where predictable high-quality audio coverage is required in high or open-ceilinged spaces – such as the atrium of Radisson Blu Royal. With a number of OCV 8s on a distributed audio system alongside 50 of the CVS in-ceiling loudspeakers, the installation provides even distribution of sound and total coverage for the architecturally sensitive areas of the hotel, with the ambient background music playing directly from a central media server.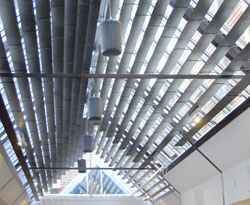 'OCV was chosen because of the unique design that fits into the glass atrium, without compromising the integrity or visual aesthetic of the building,' says Arthur Botnevik of AVAB CAC Bergen. 'The OCVs are providing full-range sound quality for the restaurant area, and it was the ideal product for this kind of application.'
All loudspeakers in the system are powered by nine Lab.gruppen E Series, the Energy Star certified 1U-high power amplifier range developed for the installation market. The E Series brings Lab.gruppen performance to a market highly concerned with spiralling global energy prices and environmental pressures, combining high power output and low power consumption, greatly reducing the total cost of ownership.
See also:
More: www.tannoy.com/pro
More: www.lab.gruppen.com