The Sennheiser Anti-counterfeit Press Conference held in China recently pulled in more than 100 attendees. Among them were representatives from Guangzhou Customs, media representatives and pop star Hins Cheung.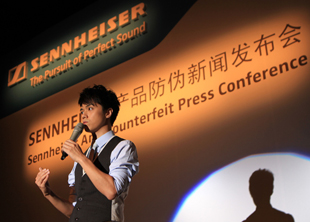 The company regards Asia as the focus of its global market, with business in China growing rapidly over recent years. Given China's present problems with counterfeit goods, this has attracted extensive copying. As a result, Sennheiser has proposed new measures to counter product piracy and protect its brand reputation. Effective immediately, Sennheiser will use the latest identification technologies to protect users from counterfeit goods
'Sennheiser will not tolerate cheating the customers and damaging our reputation,' said Volker Bartels, President of Corporate Services and Spokesperson for Sennheiser's Executive Management Board.
In order to fight back, Sennheiser is working with the Chinese authorities in raiding factories suspected of counterfeit production, surveillance on trading platforms and educating customs authorities. In addition to these activities, Sennheiser is adopting a technology tracking system that involves both the product and packaging. This involves a new authenticity label – the tesa PrioSpot.
The security label claims to offer unprecedented protection against counterfeiting, using both visible and hidden security features. With it consumers, retailers and also customs agents can readily check the authenticity of a product via the internet. Using a smartphone, customers can identify and verify the products in a store before purchase. The first products with this protection will appear towards the end of 2012.
'Sennheiser is determined, will invest and will not give up the fight until we feel we have a Clean and Safe marketplace,' said Marc Vincent, President of Sennheiser Greater China.
In 2011, Guangzhou Customs has seized 500 pairs of counterfeit Sennheiser earphones, which were being couriered overseas. Based on the price of genuine items, the value of the seized products was estimated at around RMB1,000,000.
As a global Sennheiser endorser, Hins Cheung expressed his agreement on Sennheiser's intellectual property rights initiative: 'It's very easy and convenient to scan the security label's QR code by using smartphone or tablet,' he said. 'Customers or related parties such as Customs can verify a genuine Sennheiser product within a few seconds.'
More: www.sennheiser.com