Having won the contract to cover Superliga football matches for the next three years, Danish event and television production specialist dbLux commissioned a new outside broadcast truck.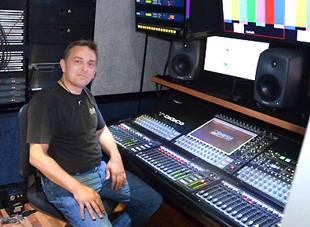 In order to meet the requirements of the 300-game contract and other OB and music production consideration, a ten-camera HD truck was built by Avit Systems, who also installed all the technical equipment and infrastructure. Built to conform with EBU R128 loudness standards, the truck is centred on a DiGiCo SD10B.
'The SD10B is cost-efficient while offering lots of broadcast-specific features,' says Kim Johansen of DiGiCo's Danish distributor, Soundware. 'We demoed the console at the Pro Light & Sound show and, not long after, dbLux ordered one with remote PSU, plus three D-Racks on HMA optics.'
'One of the major reasons for choosing the SD10B was the flexible fader layouts and the multichannel folding feature, which really cleans up the layout of the desk,' says Avit Systems' Anders Fiedel. 'But the whole DiGiCo way of thinking fits the bill very nicely. Almost anything is possible on the SD10B and the purchase price, including D-Racks and PSU relocating kit, made it an obvious choice for the new truck.'
The console is fed by the vehicle's Grass Valley audio router, via two Madi streams totalling 112 channels for EVS and Avid production systems, plus intercoms. Inputs also come from the three D-Racks on Optocore connections for field of play microphones and on-site studio sources. The D-Racks also feed the headsets and in-ear systems for reporters and studio anchors.
'The SD10B produces two main stems of audio for broadcasting – the main 5.1 mix for Danish TV stations and a world feed, which is the 5.1 main mix without the Danish commentary,' Fiedel explains. 'The two 5.1 stems are sent via Madi to the truck's audio router, then to TC System 6000 mastering with the new ALC6 Olympic algorithm for R128 loudness processing.'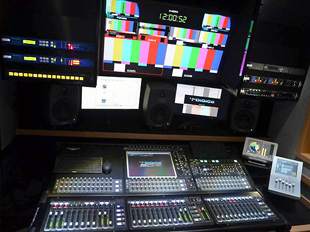 The processed 5.1 stems, plus two R128 loudness-corrected stereo mixes, are fed back to the SD10B´s monitor section, where the mix engineer can choose which stem to monitor. The two stereo stems are also sent to the SD10B´s matrix, where they are summed into two further mono stems for intercom use. The desk also mixes eight additional mono feeds for intercom use and further mono feeds for studio monitoring.
'The audio quality of the SD10B is second to none and its superior way of handling multichannel inputs and outputs puts other desks in the same price range to shame,' Fiedel says. 'The monitor section also has some really nice features, like a user definable monitor matrix with calibrated monitor levels and insert point for room correction. The calibrated monitor levels and other functions are put on the macro buttons for easy access.
'We can either capture functions or manually programme macros for tasks that are used frequently and need to be available instantly,' he adds. 'A prime example being the ability to instantly route a camera microphone to an EVS input for spontaneous interviews.'
More: www.avit-systems.com
More: www.soundware.dk
More: www.digico.org