From night receptionist at London's Metropolis studios, Matt Paul has emerged as an in-demand a producer and remixer in the decade that followed.
Along with great perspective and skills for music production, his experience also helps him select his equipment – recently a Solid State Logic X-Desk and Alpha-Link for his studio. 'The sound quality of the Alpha-Link is fantastic, and the X-Desk is a perfect centrepiece when I'm working primarily in the box,' he says. 'You just get back some of the functions that you lose when not working in a large studio. It also gives you the versatility to work in a number of ways depending whether you're tracking, programming or mixing.'
The first project to see the new se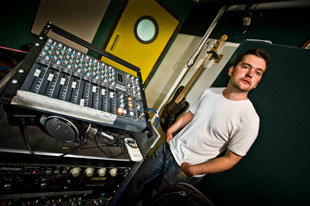 t-up in use used was programming for the Jay-Z-led Haiti charity single 'Stranded', which had a very tight deadline due to its scheduling for an MTV performance. 'The increase in workflow certainly helped,' he says. 'Since then I've been working on a number of projects, including U2, Delooze and Dot Alison in various remix, production and programming capacities, and the SSL gear has been spot on every time.
'I guess initially I was sceptical about the mini-jack input on the front, but it's actually proven to be amazingly useful. There's no more faffing around with different leads and the patchbay just to listen to a laptop or iPhone, and being able to sum the input with the mix or external audio is very useful too. Having 24 channels of high quality conversion also means I can have lots of outboard effects, filters, synths and instruments always plugged up, saving time and hassle when quickly trying ideas out and keeping the session flowing.'
As well as remixing the likes of U2 and Jay-Z, he has been Grammy-award nominated for work on Amy Winehouse's Back to Black, the 2006 album that gained her 'superstar' status.