Passing the 1,000 mark for its sales, Studer's OnAir 3000 digital console has been finding favour with some of the world's most prestigious broadcasting companies – including the BBC, Rede Globo of Brazil (the largest television network in Latin America and the third largest network in the world), the Danish Broadcasting Corporation, TRT (Turkish Radio and Television Corporation) and ERTU (the national public broadcaster for Turkey), which runs the internationally-recognised television station Nile TV.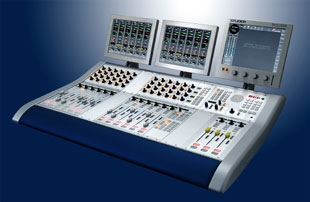 'Today we celebrate a milestone, as we have now sold more than 1,000 consoles,' said Keith Watson, Marketing Director for Mixing. 'We designed the OnAir 3000 for the medium to upper segment of the broadcast market, and we have enjoyed tremendous success, thanks to the product's tremendous ease of use and versatility. To that end, it's only fitting that we surpass the 1,000 mark with sales to three of the most successful broadcasters in the world.'
The OnAir 3000 design is based on a completely modular desk and a new DSP engine. The fader module includes six fader strips and up to eight fader modules, giving a maximum console size of 48 faders. Layout options range from a comprehensive engineer-operated continuity console to a single-fader panel for DJ and newsroom use or a PC-operated system with no physical desk controls.