For the first restaurant to be opened outside his native Russia, Arkady Novikov chose London Mayfair's exclusive Berkeley Street.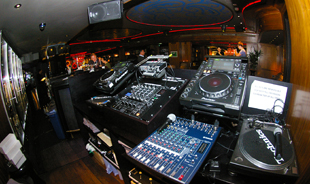 Set over three floors (17,500-sq-ft) and with a combined capacity of 565 people, the multi-million pound Novikov Restaurant & Bar combines pan-Asian and classic Italian cuisine, wrapped around theatre kitchens, with a basement Lounge Bar which metamorphoses into a nightclub. This is set against a background of customer-profiled music played through sound systems designed and installed by the Sound Division Group (SDG).
The interior was designed by Russian company Geometry Design Moscow in partnership with London-based project managers, Keir Townsend – who brought Sound Division to work alongside Geometry's lead designer, Irina Glik, as well as Justin Peach at main contractor, The Beck Group.
Both the production lighting and sound have been designed and installed by Sound Division. In equipping the venue's 13 sound zones, David Graham's company has applied the same sense of individual identity, giving the loudspeakers a highly visible industrial look or making them discreet as required. Six JBL Control 67 Pendant speakers, suspended above the floating wooden slatted raft ceiling in the Asian restaurant, provide an invisible sound source as do the two in the adjacent bar and holding areas.
The Italian restaurant features a Bose system, comprising eight stylish DS40SE speakers (wall mounted in pairs on pillars, and also individually on the veranda ledge) plus a pair of Bose FreeSpace DS40F flush-mount ceiling speakers. Partitioned private dining areas are served by 11 further flush-mount Bose DS16 ceiling speakers.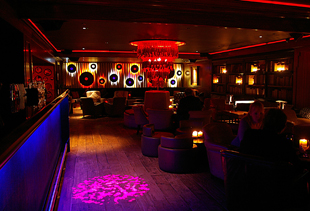 But it is down in the basement Lounge Bar that SDG has stamped its mark. Here, four high-powered Nexo PS10 speakers have been ceiling mounted in a quad shape to cover the hot spot lounge area around the main bar and over the small performance area in front of the DJ booth. Around the remaining three lounge areas to the rear and side, multiple pairs of PS8 speakers have been installed – and where low-frequency extension is required, seven floor-standing Nexo LS600 15-inch sub bass have been provided. Powering the entire system is a combination of Camco and Cloud amplifiers.
The front end includes two of the new Pioneer CDJ2000 CD players, a Pioneer DJM900 Nexus mixer, and a Traktor software control package for laptop DJs to use, all digitally connected via a Netgear hub. For DJ monitoring, a pair of overhead Nexo PS8 speakers are configured in stereo while a 24-channel multicore and stagebox running back to the DJ booth from the small performance area.
SDG installed a Soundweb London 12-input/8-output Blu-100 DSP to switch the presets from a front-facing conventional PA, for when the venue hosts live music, to an all-immersive surround sound to envelop the audience when the DJ is playing. The network is completed by strategically placed BSS Soundweb remote Blu-3 and Blu-8 wall panels, offering local source select and volume control.
Overhead in this nightclub-style lounge, the mood and dynamics are constantly complemented via the six Martin Mac 350 Entour LED Moving Head Profile Lights (also designed and installed by SDG). These are operated by industry standard Martin LightJockey software, and managed by a Protouch 19-inch LCD touchscreen monitor PC.
'Due to the sensible budget, we have been able to meet and exceed the requirement without compromise,' David Graham says. 'Whether providing high-powered foreground music or subtle transparent background reproduction. We are particularly pleased with the sound reproduction in the lounge, which is all-encompassing and creates a phenomenal listening experience.'
General Manager Caroline Taylor, agrees: 'The sound system does exactly what we wanted it to,' she says. 'I knew musically we didn't want another R&B bar – and Sound Division have interpreted our requirement exactly. They have delivered precisely the cool vibe the venue warrants, and even when the sub bass kicks in the "boom" is delivered in a cool way.'
More: www.sounddivision.com