UK manufacturer 4HM is seeking distribution partners in the Asia markets.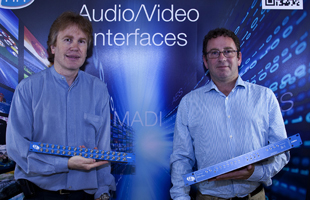 Set up three years ago by a team with longstanding of experience in the design, manufacture and marketing of audio and broadcast equipment, 4HM products are now used in broadcast facilities around the world and in TV coverage of major sporting events.
The company specialises in compact, cost-effective units that connect audio equipment to an SDI-based infrastructure and the break-out of multiple digital audio channels from several SDI streams. The range includes SDI to Madi/AES interfaces, Madi to multi-format AES convertors and a number of AES breakout boxes and interfaces designed to route signals previously extracted from the SDI streams. A
'This is really the 4HM launch to Asia,' says Craig Lovell of 4HM. 'While we have had great success in the UK and Europe, until now, we have not actively been concentrating on the Asia-Pacific region. In fact, we only have distributors in a few territories such as Singapore and Malaysia.
'We visited Broadcast Asia to support our local distributor, in addition to introducing 4HM to the wider region and hopefully identifying other potential distribution partners. We would like those interested in distributing the 4HM range to get in contact with us, or to express their interest via our website.'
See also:
4HM BOB/O-32 and BOB/I-32 breakout boxes
4HM MA64 Madi-to-AES audio converter
4HM SAM64 SDI-to-AES/Madi interface
More: www.4hmbroadcast.com