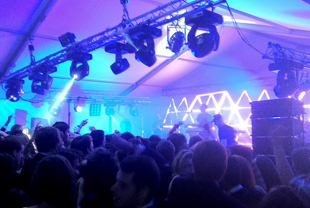 Adopting The Divine Comedy as its theme for 2012, Cambrige Univertity's Clare College called on local production company Cambridge Sound to give sound and visuals to its recent May Ball.
'There's really nothing quite like a Cambridge ball – it's an incredible tradition,' says Cambridge Sound owner, Darryl Flinders.
The second oldest college in Cambridge, Clare used three main stages with dBTechnologies loudspeaker systems. The system for the small acoustic stage comprised two dBTechnologies Opera 410Ds and two Sub 05Ds, the second largest had two FlexSys F212s coupled with two Sub 05Ds, while the largest, main stage used a full dBTechnologies DVA T4 system.
'It was the first time we had rigged that many DVA T4s and it was painless. The system went uo quite easily with no problems at all,' Flinders reports.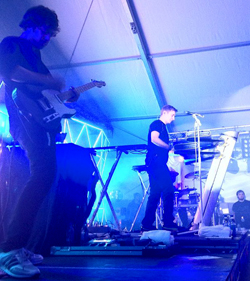 'We used a combination of FlexSys FM10s and FM12s for monitors. The active, coaxial speakers are designed with innovative technologies, resisting feedback while delivering the same satisfying audio experience at every listening position.
'The main stage was huge, and everything was pushed to the extreme during the headline act, and still nothing failed. The entire site was run off generators, we didn't use any site power at all, and it's testament to the dBTechnologies kit that it worked so well despite the inescapable voltage fluctuations that go with this set-up.'
The DVA T4 has a power-factor-corrected power supply, operating from 85V to 260V, which ensured that voltage fluctuations were not a problem for the system.
Cambridge Sound has a reputation for event management among Cambridge's colleges, including St John's, Magdalene and Jesus. In part, this is down the team's imaginative A/V designs and reliable service, but also the company's claim that such events 'don't cost the earth'. 'We've used other rigs before – more expensive in most cases – and the dBTechnologies gear performs in line with them,' Flinders explains. 'I don't think we have made any compromises at all, we're very happy.'
More:
www.cambridgesound.co.uk
More:
www.dbtechnologies.com