Claimed to be acoustically perfect and equipped with one of the best sound systems in the world, the Box Room at Ministry of Sound in London has been joined by another experiment in audio development by the same team.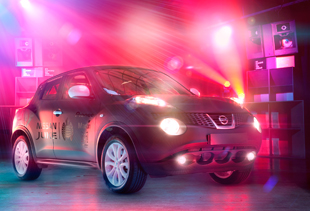 Nissan and Ministry of Sound have unveiled the Juke Box, a breakthrough automotive design with one of the best nightclub sound systems in the world, capable of producing up to 150dB.
Following its work on the current iteration of the world-renowned Box Room – a five-sided room-within-a-room – Martin Audio was the first port of call for the new project's loudspeaker system. The self-contained 18.9kW sound system uses custom enclosures housing two 18-inch powered subs and the same mid/high boxes used at Ministry of Sound.
'When we got the phone call from Ministry of Sound asking us if we wanted to be involved in this project, we knew it was going to be very exciting,' Martin Audio Research & Development Director Jason Baird reports. 'The more I heard about the project, the more I realised it was something we had to make the time for because it was so unique.
'The trick with getting as much of the experience from the Box into the back of the car is to retain the ability to reproduce loud sound pressure levels along with the clarity, definition and abundant low end you can get in the Box. This is something we've managed to achieve in a surprisingly compact system.'
The Juke Box also features an integrated radio studio, allowing anything played on the system to be captured for broadcast via Ministry of Sound's digital radio app.
After its debut at the Le Mans 24-hour endurance race, the Juke Box will tour Europe highlighted by the Nissan Juke Box Sessions, a six-month radio partnership broadcast on the Ministry of Sound's Digital Radio channel. The show will be built around a series of exclusive DJ sets recorded at Juke Box events across Europe throughout the summer.
The development is part of a round of intensive audio work centred on automotive applications of various kinds – including creating 'engine' sounds for future electric road vehcles.
See also:
More: www.martin-audio.com
More: www.ministryofsound.com