Staged at Wembley Stadium during June, the lineup for the 2012 Capital FM Summertime Ball included Coldplay, Justin Bieber, Usher, Katy Perry, Jessie J, Ed Sheeran and Flo Rida.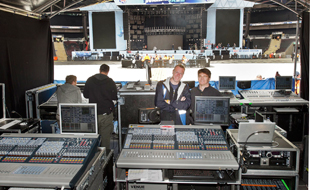 The sound system and 17-strong crew to were provided to Production North by Adlib's audio division, with Marc Peers in control. Key people included systems tech Tony Szabo, RF co-ordinator Dave Kay, presenter console operator Ian Nelson and patch by Michael Bernard Flaherty all intent on delivering a precisely planned mission involving some superlative teamwork.
'We have an extremely harmonious relationship with Production North on these shows,' Peers says. 'A vast amount of detailed ground-work in the months leading up to the event is needed in order for things to run smoothly on the day.'
It's the second time the Liverpool based company has supplied audio for the Summertime Ball and it also currently services the Jingle Bell Ball winter version – again under the auspices of Production North – at the O2 Arena. For this event, Peers worked closely with Production North's sound supervisor Ant Carr and their event production manager Sarah Hollis on the advance logistics ensuring all the requirements of the acts performing were met.
The schedule, similar in format to a large live TV show, kicked off at 4.03pm and ran until 10.30pm, with the average changeover between bands being two minutes and the shortest just 30s. A flip-flop desk set-up and two days of soundchecking ensured all bands were be catered for.
The sound system was L-Acoustics K1, with two 16-speaker arrays for the main hangs, with side hangs of 15 V-Dosc LR speakers and an upstage hang of five V-Dosc boxes per side. Two sets of delays – with another ten K1s in each – were located immediately behind the FOH mixer position. To cover the top tiers of seating, Adlib integrated the venue's house system speakers into theirs.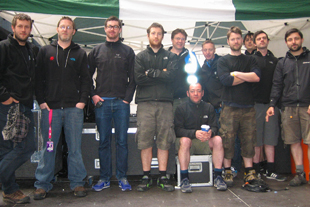 The subs were 16 L-Acoustics SB28s a-side ground stacked, and the entire system was processed through the standard Adlib Lake set-up with the audio transported back to the amp racks via a Dante optical backbone.
Three Avid Profile consoles were provided for the FOH mix, two were used for the live acts and one for the video play-ins which featured heavily throughout the show, this console was also used for all the presenter mics.
For monitors, Adlib supplied two Yamaha PM5D consoles and 24 of their new MP4 low profile wedges, which feature upgraded drivers from the original MP3 wedge. The stage was approximately 60-ft wide, 100-ft including wings, and the side fills comprised three L-Acoustics ARCs and two SB28s per side.
The entire monitor system was powered by Lab.gruppen PLM 10000s, for which the wireless remote was invaluable for tuning and EQ.
In order to accommodate the quick changeovers, every band was miked separately, resulting in a massive selection of every imaginable microphone being on site.
Many of the bands performing brought their own mics and stage cabling, all of which had to be integrated into Adlib's line system with over 65 channels of mainly Sennheiser and additional Shure wireless to meet the band's specs.
Sennheiser also provided additional support on the day, 'Thanks to Mark Saunders and Tim Sherratt, we always have Sennheiser's invaluable support on these shows,' confirms Peers.
The get-in commenced on Wednesday afternoon and everything had to be up, running and ready for inspection 24 hours later. Friday was a full day of soundchecks as was Saturday morning, and then straight into the show…
'Each and every one of our crew were complete superstars on this, all playing their integral roles in ensuring a seamless audio performance under very high pressure – a real team effort in every sense of the word,' Peers says.
'Working with Steve Levitt, Ant Carr and all of the Production North team is always a complete pleasure,' account handler Phil Kielty adds. 'People have no idea (thankfully) what a huge military-style operation goes on behind the scenes but no-one gets flustered and everyone pulls together with a great stage crew to make it all look so effortless and smooth.
'The K1 system was so well received and I can't think of many pop festivals that can pull off the staging of performances by such an amazing array of superstars.'
More: www.adlibsolutions.co.uk
More: www.l-acoustics.com