Located in the Turkey capital of Ankara, the Ministry of Transportation Conference and Event Hall recently received a complete overhaul of its sound system. The hall is used for press junkets and a variety of conferences, and has been equipped with DAS Variant and Artec series loudspeaker sytems by local contractor, Melomani.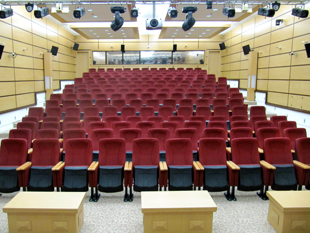 With new technologies taking on an increasingly more important role, conference and event spaces of this type need to be able to support audiovisual presentations. With this in mind, Melomani supported the hall's projection screen and audiovisual systems with a 5.1 surround sound system.
Powered installation array systems from the DAS Variant series were used for the three main channels (LCR), specifically three clusters of three Variant 112A units each. Variant 18A self-powered subwoofer systems were installed to handle low frequency reproduction. A further eight DAS Artec 8 systems were used to accommodate the hall's seating for 200 people.
The media announcement of the planned expansion of Ankara's underground transport system gave the new system its first use. This project, undertaken by the Turkish Ministry of Transport, will involve the establishment of two new subway lines for the Turkish capital, and will be, coincidentally, carried out by the Spanish company Comsa.
The event was hosted by the Turkish Transport Minister himself, Binali Yildrim, and the highest Spanish representative in the country, Ambassador Cristóbal González-Aller, was also in attendance. During the event, different projections related to the project were displayed, giving the sound system a chance to demonstrate its effectiveness.
More: www.dasaudio.com