UK sound hire company DHE Professional has purchased three Allen & Heath GLD digital mixers to expand to its inventory.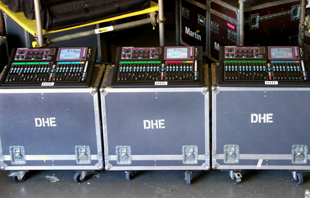 Comprising three GLD-80 mixers, with three AR2412 and three AR84 I/O expander units, the new systems have already been put to work on a variety of events but the Ipswich-based operation – two were used to manage FOH and monitors at the recent Homelanz Festival in London, which featured headline performances from Prime Circle, Kora and Alex Lloyd, who are all stadium fillers in Australia and New Zealand.
'Since taking delivery of the GLDs, the whole team has been impressed with the versatility, reliability and functionality of the mixer for its size and price point,' says DHE's Matt Suttle. 'One of the features that receives particular praise from both our own and visiting engineers is the strip assign – its simplicity makes the most complicated of stage patches achievable in an instant, helping with fast and efficient band changeovers. We have used our consoles on a variety of events from classical to hard metal and we love what they do and how they do it. GLD is a credit to all at A&H.'
DHE will be using two GLD consoles at the forthcoming Garden Party Festival on the Isle of Man, featuring performances from the Charlatans, Newton Faulkner and Reverend and the Maker.
Launched earlier this year, Aleen & Heath reports the initial response to GLD has been 'overwhelming', and it is already appearing in venues and on hire stock lists across the globe.
More: www.dheprofessional.co.uk
More: www.allen-heath.com