Bradford-based Pro Audio Systems have joined the select group of professional UK resellers handling Outline loudspeaker systems.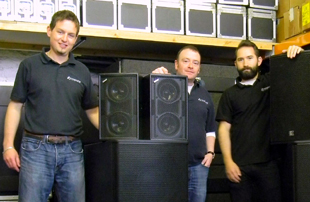 'Outline products are a great addition to our portfolio mainly because a big part of what we do is providing integrated solutions to clients' individual projects and budgets,' says Dave Simpson, PAS Sales Manager. 'To do this we need joined-up thinking from our suppliers, giving us access to complementary technologies from which we can draw what we need. The Outline range is comprehensive without being unwieldy, and includes numerous very useful and relevant products at a range of interesting price points _ in essence, it allows us to do what we do best for our customers.
'Having said that, what we really like about Outline products is their sonic performance,' he continues. 'Right from the very first demo we were very impressed with their warmth, clarity and very natural reproduction, and every Outline product we've heard has these same attributes. They are just very easy to listen to, and that's a great place to start for a loudspeaker'.
'In building our UK dealer network we've enjoyed the considerable luxury of being able to start from scratch without carrying any baggage from previous arrangements,' adds Peter Barnard, MD of Outline UK. 'This has allowed us to put together the reseller team we really wanted, comprising a small number of reputable and properly-trained partners who can take our brand forward co- operatively, look after our customers, and help deliver the end-user satisfaction that is critical to the Outline experience. We couldn't be more pleased to have PAS onboard, as their sales and support philosophy dovetails perfectly with our own.'
More: www.proaudiosystems.eu
More: www.outline.it