Relocating its Students' Union radio station, the University of Manchester called in HHB Communications to provide two Studer OnAir 1500 audio mixers as part of a thorough studio upgrade.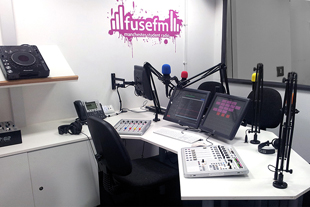 The OnAir consoles for the heart of an integrated system that uses Studer's Relink digital audio routing technology. In addition, the OnAir's modular design has enabled the equipment installation to be rationalised, which has helped to control the project costs.
Located in the Steve Biko building and by volunteers, Fuse FM is a key part of the Students' Union's broadcast media output. The studios are used for a combination of production and live broadcasting, and both mixers have been supplied with the six fader expanders and Relink I/O sharing option. The OnAir 1500's mixer core processors are installed in a remote machine room together with the various computers used for audio playout, streaming and internet access, which has allowed the audio cabling to be rationalised. The Relink feature, which allows each OnAir mixer to access audio connectors on other mixers, is being used with the desk's standard AES/EBU I/O to provide digital tie-lines between the studios.
The station's Technical Department has developed in-house applications for audio playout and red-light signals, which has been integrated with the mixers' GPIO port, providing fader start, live-mic and record tallies.
'The Studer OnAir is not only an excellent piece of advanced broadcast equipment, but it's intuitive layout will make it easy for our students to strengthen their skills in broadcast audio,' says Fuse Studio Manager James Sandford. 'We are very pleased to be able to offer our students a state-of-the-art digital broadcast facility, providing them with the skills they can be useful in their future careers. HHB was integral in helping us choose the mixer that best fit our needs.'
'We're very excited to have supplied our first Studer digital mixers to Fuse FM,' says HHB Educational Sales Manager, Andrew Hingley. 'The OnAir 1500 is a fully-featured radio mixer and Fuse has been very clever in the way they have configured the studios so that they are able to utilise many of the mixer's functions in their new facilities.'
More: www.hhb.co.uk
More: www.fusefm.co.uk