Dubai-based Abacus Rentals has putchased a complete Roland Professional Audio system solution through local distributor, Nicolas Kyvernitis Electronics Enterprises.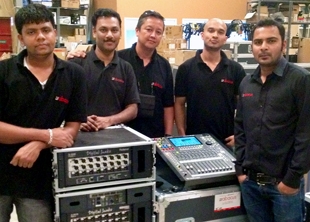 The system includes an M-400 audio mixing console, S1608, S0816 and S0808 digital snake modules, as well as other components. Modular and scalable, itallows the company to meet differing event needs, depending on their size and location.
Roland Professional Audio is continuing to evolve digital audio and live audio mixing. The V-Mixing System is fully digital using Roland's REAC (Roland Ethernet Audio Communication) technology from high-quality mic preamps to the mixing console.
'With the solution in place, Abacus can provide a standalone digital snake system that can be used with any analogue or digital console,' says NMK Roland Product Specialist, Moswain Antao. 'However, together with the M-380, the company can also provide complete routing flexibility.'
More: www.nmkelectronics.com
More: www.roland.com/products/en/M-400