The Academy Music Group has extended its use of Avid Venue consoles with a new round of club installations across the UK.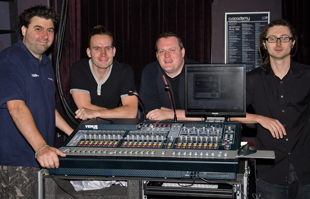 The five Avid Venue SC48 consoles were purchased from Adlib Solutions in Liverpool and installed at O2 ABC Glasgow, O2 Academy Liverpool, O2 Academy Birmingham, O2 Academy Oxford and O2 Academy Newcastle. These are in addition to the Venue Profile Systems already installed at O2 Academy venues in Bristol, Islington (London) and Oxford.
AMG is the leading owner and operator of live music and club venues in the UK, with shows and events across a network of O2 Academy venues nationwide.
'The familiarity that many touring engineers have with the board means that it is a great desk to have in our selection of in-house equipment, improving the already high standard of production services across the group,' says AMG Group Technical Manager, Ed Jackson.
'They are a one flightcase solution,' he adds. 'In some venues, where space is limited or when we have to provide a full console set up alongside a touring desk, they fit in the space required. The boards were chosen so they can be used in both FOH and monitor positions. Their small footprint means that they can be moved around and used in our venues of varying capacities. Visiting engineers touring on larger shows are often able to bring their own boards, but the smaller tours and support bands don't and we need to be able to provide for them.'
The ability to record 32 channels over FireWire to a laptop running Pro Tools 10 was another attractive feature: 'That's been something that we wanted to achieve in-house for a considerable length of time, so we're delighted to make this a reality for artists playing our venues,' Jackson says, 'Even as recently as a few years ago, to record 32 channels would have required a [remote broadcast] truck, a separate multicore, splits and more. To be able to turn up to a show with a laptop and plug it in with one cable and record on an industry-standard platform means that the costs have been reduced significantly, making recording for newer bands and independent artists a viable option on a smaller budget.
'We were able to get the SC48s set up before sending them out to the venues so that they were able to use them straight away,' Jackson concludes. 'They opened the cases, plugged them in and off they went. Since they've used the extra features on the SC48s, all of the feedback has been positive.'
More: www.avid.com