The Audio Division of AC Entertainment Technologies has supplied UK-based Insync Productions with 'a significant quantity' of equipment, including DiGiCo, Yamaha, Soundcraft, Sennheiser, Martin Audio, BSS, Denon and Sonifex.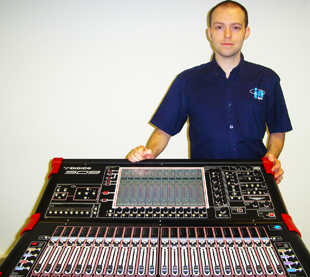 A specialist audiovisual supplier and provider of technical production, design and rental services, AC Entertainment Technologies (AC-ET) serves corporate and live events with an equipment inventory that is constantly updated with the latest available technologies.
The supply included a DiGiCo SD9 mixing console, which was specified by Insync Production's MD Scott Tompkins after careful deliberation. It has a full D-Rack system, including multicore, which makes it a 'very cost-effective option', according to Insync Production Head of Sound, Ali McGrattan.
Adding to AC-ET's Yamaha collection is a further LS9 digital mixing console, bringing the company's total to four LS9s and one M7CL. Additionally, four rack-mounted 12-channel Soundcraft MFXi12 mixing desks have been purchased for all types of smaller shows and events.
Insync Productions' large Sennheiser wireless microphone system has been boosted with EM-2000 rack-mounted single receivers, specifically for applications using just one microphone. Another part of the AC-ET package was a Denon Solid State/ USB Recorder, reflecting the increasing popularity for recording shows and the ease with which this can now be achieved at high quality.
A selection of Martin Audio power amplifiers were also on the list, as was a Sonifex Twin Automatic Digital telephone balancing unit – which allows phone calls to be routed through a mixing console, for press conferences or presentations involving conference calls and satellite link-ups. It was used soon after delivery for a London press conference for a high-profile European golf tour, linked live to New York. The order was rounded out with a number of BSS DI boxes.
AC Audio's Glen Thompson co-ordinated the sale and delivery from the company's High Wycombe HQ: 'As always, the service from AC-ET was quick, efficient and informed, while the products were competitively priced'.
AC-ET's extensive audio portfolio includes sub-distribution for many of the premium brands available.
More: www.insync.com
More: www.ac-et.com/audio